Ridgeland Hardeeville High School Athletic Booster Club
The Ridgeland Hardeeville High School Athletic Booster Club is a non-profit all volunteer organization. Our volunteers include parents, concerned citizens, community leaders and school staff. RHHS Athletic Booster Club is committed to supporting RHHS student Athletes to become winners on and off the field and court.
Our fundraising efforts help to provide scholarships to graduating senior athletes, sponsoring an annual award banquet to honor students' athletic and academic accomplishments. We also assist with sponsoring athletic camps, and providing financial assistance to athletic teams to offset the costs associated with sports participation. The supplemental funds lower the overall individual cost to the student.
The Ridgeland-Hardeeville High School
Athletic Booster Club
Brick Fundraiser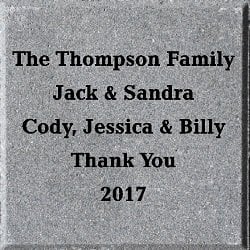 Alumni, Students, Family & Friends we need your support to help the Ridgeland- Hardeeville High School Athletic Booster Club continue to support the "Jaguars".
What better way to show your support than to purchase a brick that will be prominently displayed on the outside wall of the Jaguar Stadium!

CALLING ALL ALUMNI, STUDENTS, FAMILY & FRIENDS


Jasper Knights, West Hardeeville High School Cobras, Ridgeland High School Trojans, Jasper County High School Jaguars, Hardeeville High School Hurricanes, Ridgeland High School Jaguars and Ridgeland-Hardeeville High School Jaguars and others.
We hope you will purchase a brick to support our campaign as we build on our strong foundation to prepare our students for tomorrow.