Rotary Miracle Field Foundation

KEEP THE DREAM ALIVE!
Be a Miracle Buddy
for the Rotary Miracle Field and Rotary Miracle Playground

The Rotary Miracle Field Foundation was formed early in the Miracle Field Project as a 501C3 entity to be the supporting pillar to build the Miracle Field and Playground. In an effort to improve the lives of those with special needs in the Wiregrass Area, the Foundation is committed to supporting future needs and promoting future growth.
The Foundation's purpose was not to just build a world class Miracle Field and Playground, but to serve as a means --- as a living entity --- beyond the original project.
With the support of Rotary, the City of Dothan, the Miracle League Board and supporters, and corporate and individual sponsors, the Miracle Field and Miracle Playground become a reality.
The Miracle Field was completed in March 2008 and the Miracle Playground in August 2010. They have brought joy to thousands in Dothan and the Wiregrass Area and it is so important to keep them in the best shape possible for the enjoyment and safety of all who use them.
We need you to become a MIRACLE BUDDY to help us KEEP THE DREAM ALIVE!


Letter to the Editor from a Mom of a Special Needs Child
As a parent of an autistic child or child with a disability, I am glad the community of Dothan finally paved a way for our children. Never in my wildest dreams did I think my son, Chaz, would ever have a "normal" athletic opportunity — until Saturday, March 29, when Dothan had the Opening Day ceremony for the Rotary Miracle League park and baseball facility.

The field is absolutely beautiful and player friendly. My younger son, Colt, has played for the Dothan Leisure Services baseball teams for years; now finally his older brother has the chance to play, too. Colt is actually his brother's volunteer/buddy.

There were many tears shed in joy over this great opportunity for all of our children and adults with disabilities to finally be able to participate fairly in a team sport where only their strengths matter. As we were leaving the field my youngest son, Colt, stated something to me that brought tears of joy to my eyes, "Mom this is the most fun I have ever had by volunteering for the Miracle League, in all the years I have played baseball."
The Rotary Miracle Field project created a baseball field and a Miracle Playground that accommodates the special needs of mentally and physically challenged citizens integrated in an existing City of Dothan Leisure Services complex. It serves as a sports centerpiece not only for the citizens of our community but for all those who visit, as well as a special all-inclusive playground that accommodates those with special needs.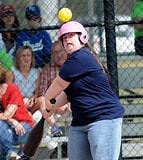 "Every Child, regardless of disability, deserves a chance to smile and laugh as they play and have fun in an environment that provides this opportunity." "Every Child Deserves A CHANCE to Play Baseball."
Rotary Miracle Field Foundation
Web Site: www.rotarymffdothan.com
Email: [email protected]
Facebook: @rotarymiraclefieldfoundation
IRS Status: 501C3 Tax Exempt Non-Profit
Contact: Bruce McNeal 334-791-8921