YOU are such an important part of our history. We are asking you to consider partnering with us in this project and make a lasting impact, as you help us pave a way for the future!

As many of you know, our lower pool has been in disrepair for a few years. We have an optimistic goal of having it ready for 2017, but in order to do so, we need to raise an additional $40,000. Order an engraved brick, and it will be placed in a memorial walkway for all to see and enjoy.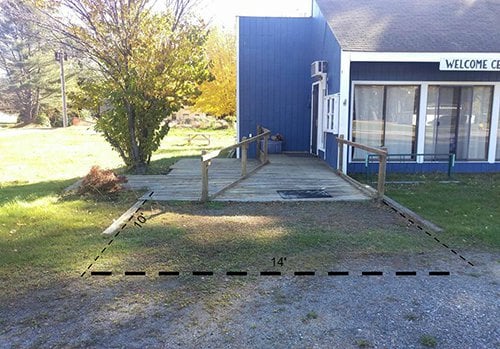 Who will benefit from the pool?

In short, everyone connected with our ministry will benefit in some way. Homeowners, conference guests, camps and retreat groups will have access. What a great place to invite your family or hold a women's Bible study by the pool. The possibilities are really endless, and can we even measure the life that it will breathe back into the conference grounds?

Location
Please see the picture on this page for location. While we considered many different locations, we decided the best place would be in front of the Welcome Center. Here is the criteria we used in choosing:
• Visibility - It will be one of the first things guests see when they come on our property. Throughout the summer, we get a lot of foot traffic through that area.
• Ability to Expand - As we sell more and more bricks over time, we have the ability to expand the walkway and create an extensive area filled with memories.
• Proximity to the pool - Since this is a fundraiser for the pool, donors will be able to clearly see the fruit of their generosity.

What can I put on the brick?
Your family name, the dates you were a camper at the Ranch, your spiritual birthday, in honor of a loved one, a Bible verse, a memory, etc. Whatever you decide to engrave on the brick, you will be leaving a legacy.

Goal
$40,000 - Factoring in our costs, that is just 500 4" x 8" bricks (less if we sell some larger bricks). With your help, this goal is very attainable.
Deadline
While this fundraiser will be ongoing, our desire is to meet our goal by April 1st in order to construct this walkway and finish the pool before summer.


I've already purchased a brick, but I want to give additionally to the pool. Can I do that?
Yes, you can earmark any donation by going to www.rumneybibleconference.givingfuel.com/partner or you can send a check to PO Box 599, Rumney, NH 03266.
If you have any questions, please direct them to Aaron Warner - (603)786-9504 or email him at
[email protected]
Rumney Bible Conference is a ministry of the New England Fellowship of Evangelicals Inc., a 501(c) (3) non-profit organization. All gifts are tax deductible.
Thank you for your support!