Saint Adelaide Academy Brick Tile Fund Raising Campaign
St. Adelaide Academy (Preschool – Grade 8), a ministry of St. Adelaide Parish, has a diverse population of students, families and staff members. Our parent volunteers and faculty work together to create an environment that develops the whole child: spiritually, academically and physically.
Saint Adelaide Academy is reaching out to our school family, community and alumni, to help support our school's educational program, and facility improvement. As an effort to help raise money for our school, and as a way to thank and honor our benefactors, we are offering personalized brick tiles that will be prominently displayed in the walkway between the school and the sports field.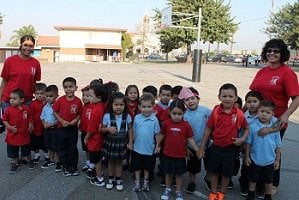 Consider leaving a legacy of time and memories spent at Saint Adelaide Academy. Imagine a permanent mark for your graduate, where they can come to admire and reminisce year after year. Some other ideas for purchasing a brick:
-Honor family members and friends
-Memorialize a loved one who has passed.
-Remember a current or former teacher.
You can customize your brick tile with our logo selection for additional charge. You may also want to purchase a keepsake miniature brick (identical impression of the actual size brick tile) for your home or office.
We greatly appreciate all of our supporters, as we work towards our Capital Campaign goals.
For questions, please contact :
Anna Duarte [email protected] (909)991-9426
or
Barbara Malouf at (909)862-5851