Sigma Chi Zeta Xi Chapter

Brothers and all Sigma Chi Zeta Xi supporters we politely ask you to be forever remembered in the history of Zeta Xi Sigma Chi at CSUN by way of memorializing your SigExperience to be built into the structure of the newly remodeling at 9934 Zelzah. We would love for you to be forever etched in the property and this is the way to accomplish leaving your legacy at CSUN. Please accept our chapter's challenge to have each and every brother secure four bricks each toward helping HC to achieve the collective fundraising goal to upgrade the property.
Our goal is to raise funds for the below improvement projects under Housing Corporation's direction.
*Chapter Room Roof
*Electrical Overhaul
*New tile flooring with hard wood appearance
*Kitchen Makeover
*Laundry Room Repair
*Front Yard Landscape Astroturf
*Back Yard Landscape Astroturf
*Kitchen expansion (Wish list)
*Room Addition (Wish list)
*Sewer connection to City Services (Wish list)
Example of a 4" x 8" Brick with Replica Tile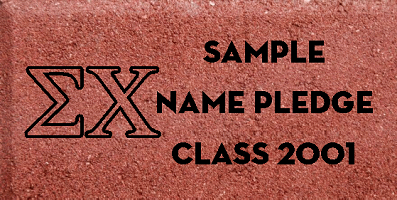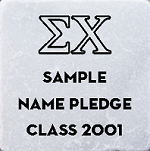 | | | |
| --- | --- | --- |
| Brick Size | Price Text Only | Price with Sigma Chi Greek Letters** |
| 4" x 8" | $100.00 | $110.00 |
| 8" x 8" | $250.00 | $260.00 |
| 12" x 12" | $500.00 | $510.00 |
Replica Tile is a 4" x 4" marble tile that has the same text as your brick $25.00
**Sigma Chi Greek Letters can be selected below under Clip Art/Logo/Artwork
For questions, please contact Chris Alvarez at [email protected]