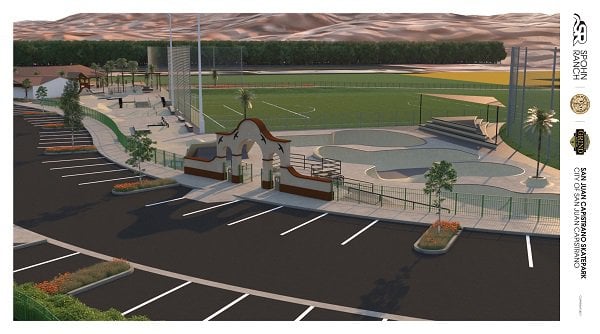 The goal of the San Juan Capistrano Skatepark Coalition is to help raise funds to build the

city approved skatepark

in our community, and to facilitate the creation of a safe and legal skateboarding terrain within the city.
On March 7, 2017, the City Council voted unanimously to approve a skateboard park conceptual design completed by Spohn Ranch, Inc. (Spohn Ranch) of Los Angeles, California, enabling community fundraising efforts to begin. San Juan Capistrano residents have expressed interest in a City skateboard park since 2007, when a skateboard park facility was identified as a community priority as part of a citywide recreational needs assessment.
More info...
The proposed skateboard park is planned for the northwest end of the San Juan Capistrano Sports Park, adjacent to one of the baseball fields, located at 25925 Camino Del Avion. The design incorporates local skateboard history, an area for beginner skateboarders, and will make San Juan Capistrano home to a world-class action sports facility. The skateboard park is estimated to cost $2 million to construct and additional funding will be necessary for yearly maintenance. A source of funds has not yet been identified and the Council is requesting that the community contact the City to assist with donation and fundraising efforts.
Example