Stone Memorial High School Baseball
Stone Memorial High School Baseball needs your help! Our team, consisting of players, coaches, family, and school faculty, have worked tirelessly for 2 years to secure the needed funds to design and build a dedicated baseball training facility. This facility will be composed of multiple areas for training (batting, pitching, catching, and fielding) and will include a locker room and meeting area. Presently, we do not have a baseball training space and share all off-field training areas with other SMHS sports. Although we've been generally successful while sharing these areas, there are often conflicts with other sports which forces baseball to cancel practices and events, especially during inclement weather.
Our Panthers are amazing both in the classroom and on the field. In the classroom, they've proven themselves as Student-Athletes by earning countless accolades within Cumberland County. Additionally, they commit more than 300 hours of physical training every October through June. Having a dedicated, completed, training facility will greatly enhance our ability to grow these players and move our program forward with pride and tradition. It will be the foundation of success for the foreseeable future of SMHS Panther Baseball.
While our community has been extremely generous in getting the facility started, we still have a significant financial shortfall in order to finalize this project. SMHS Baseball does not want to burden future Panthers with loans to finance the remaining stages of this facility and instead would like to focus our yearly contributions towards equipment, uniforms and seasonal operating costs.
We are hoping to raise funds for the remaining project by creating the SMHS Panther Baseball Home Plate Legacy Wall. Your tile will be proudly displayed on our new hitting facility for years to come. Honor past, present or future Panthers with your message! We will have many options for this project, size, color, font and clip art can all be customized to your family or business.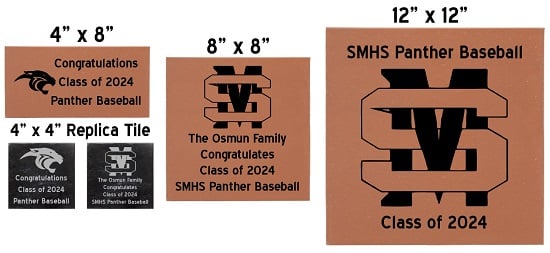 For any information, please contact [email protected]