JAI SRI RAM, JAI HANUMAN, JAI SRIMANNARAYANA
The Statue of Union will be North America's tallest statue of Lord Hanuman, an embodiment of strength, devotion, and selfless service. Hanuman united Sri Rama with Sita and hence the name, Statue of Union. The project in its entirety is the vision of His Holiness Sri Chinnajeeyar swamiji and will be unveiled on August 6, 2023. This is an opportunity for us as a community to etch a path for future generations to seek the divine blessings of Lord Hanuman, Located at Sri Ashtalakshmi Temple in Sugar Land, Texas, the Panchaloha Abhaya Hanuman will stand at 89.7 feet tall - radiating benevolence, strength, and hope. The Statue of Union is about creating a spiritual epicentre where hearts find solace, minds find peace, and souls find a path to transcendence. Let's bring the vision of North America's tallest Hanuman Statue to life, and together, let's continue to create a world filled with love, peace, and devotion.
The Wall of Union
A distinct donor recognition space at the site of the Statue of Union.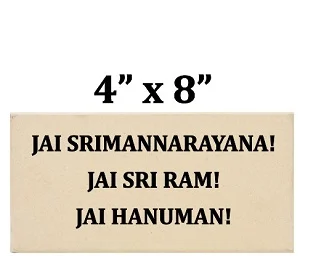 Height: 5 feet, Width: 16 feet
Total: 360 blocks
Each block: 4 inches x 8 inches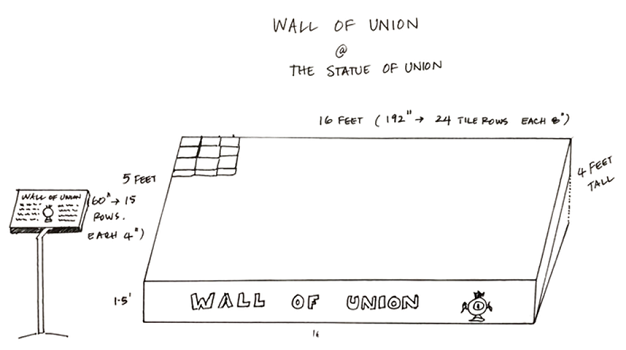 For details on how to get your space on Wall of Union,
please email [email protected] with your contact information.
For all the donors who have fulfilled their pledges by July 6th, the Tiles will be ready for the inauguration day on August 6th. Pledges we receive after July 6th will be included in the due course as soon as possible.
There is a 3-4 weeks production time for the Tiles once we provide details to the Tile vendor.
We kindly request all pledges to be fulfilled by July 6th as much possible.
Please note that July 6th is not an absolute deadline to be on the Wall of Union,
but only a deadline to be included by the inaugural event.