Spring Area Radio Kontrol Society (SPARKS)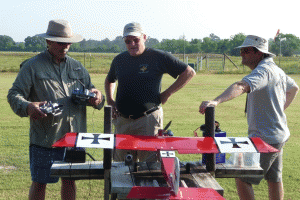 SPARKS RC Club Hangar Raising!
Greetings,
The radio control community has always been a tight-knit group of enthusiasts who rely on cooperation and helpfulness, whether it's at the field when someone forgets a screwdriver or in the workshop building an airplane.
That helpfulness and cooperation extends to attendance at neighboring clubs for their events and activities.
Since it is also common for R/C pilots to be members of multiple clubs, the lines blur even more between them, and the different clubs become as close as different members of one's family.

SPARKS (Spring Area Radio Kontrol Society) would like to extend an invitation to you and your club, business, or organization to continue in the spirit of cooperation by leaving a lasting impression on the building of our new covered pit area, known as "The Hangar."
We are taking donations of any amount on our website at www.sparksrc.com to help us build the hangar which will allow members and guests alike to remain covered in shade or protected from the rain.

For those clubs, organizations, businesses, or individuals who are interested in donating more, a memorial brick would be placed in their honor with up to three lines of text of their choosing to be etched onto the brick.

The prices and sizes are as follows:
The brick will be placed at the hangar's foundation.
| | | |
| --- | --- | --- |
| 4"x8" Brick | Text Only | $100.00 |
| 4"x8" Brick | Text with clip art | $115.00 |
| 8"x8" Brick | Text Only | $150.00 |
| 8"x8" Brick | Text with clip art | $165.00 |
| 12"x12" Brick | Text Only | $250.00 |
| 12"x12" Brick | Text with clip art | $265.00 |

SPARKS' field is located on A. D. Dyess Park which is at 16822 Kitzman Road Cypress, Texas 77429.
The field is open to all SPARKS club members and their guests.
A brick in your club's name or in the name of a business, organization, friend, or loved one would be a great way to help another airfield within our community grow their facilities for the use of current and future club members.
We hope you can help us improve our facilities which in turn will improve the R/C community.
Thanks,
SPARKS