ST ANDREW PRESBYTERIAN CHURCH
St Andrew Presbyterian Church is in the process of developing a Memory-Meditation Garden in the quadrangle located between the church buildings. The long-term project will be similar to the cross of bricks in the picture below. The fountain in the picture will be replaced by an existing live oak tree. This tree was donated in memory of Bob Dunn and will one day provide much needed shade for the garden.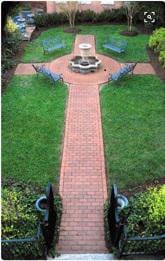 One day in the Spring of 2016, a group of church members met for regeneration and growth ideas. One of the ideas for a dream church was to develop the quadrangle into a beautiful area. Buying engraved bricks will help achieve this dream.
FOR ALL QUESTIONS OR HELP WITH ORDERING PLEASE CONTACT DIANA LEWIS