St John Christian Methodist Episcopal Church
St. John Christian Methodist Episcopal Church Homecoming 2016

"Celebrating the Legacy of Faith and Family"
Rev. John A. Dillard, III Pastor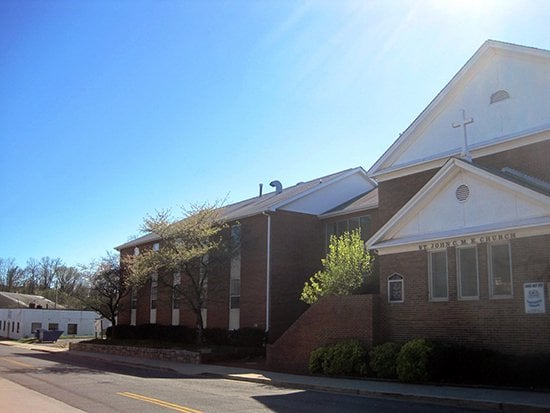 St John C.M.E. Church will be celebrating Homecoming through worship and fellowship with members, family and friends. Donations from the St. John Brick Fundraiser will be used to reconstruct the deteriorating retaining wall on the Stanton and Douglass Road sides and liquidate our financial debt. This wall will exhibit the legacy of St. John's past and present members and supporters.
We are requesting a donation of $250 per clay brick. The brick size is 4'x8", color Red Antique #12, a portion of your donation is tax deductible. The brick holds three lines, up to 20 spaces per line. And, no more than 15 spaces per line if you have a logo or picture on the brick.
The $250 donation is due by Friday, May 26, 2017
For Businesses only, the $300.00 donation is due by Friday, May 26, 2017
Sunday, November 13, 2016
11:00 am
Family and Friend's Day Worship Service
Rev. Dr. Roderick D. Lewis, Sr.
Sunday, November 13, 2016
4:00 pm
Gospel Program
Featuring – The Vintage Gospel Singers
Thursday, November 17 & 18, 2016
7:00 pm
Fall Homecoming Revival
Rev. Juliano A. Andujo
Sunday, November 20, 2016
11:00 am
Homecoming Celebration Worship Service
Featuring – Guest Artist, Ricky Danforth and Liturgical Dancer, Claudina (Harrison) Solomon
God is so good! We serve an awesome God!
About the year 1867, the pioneers of this community joined with those in Howard Town (Nichols Avenue area) and trekked to Good Hope, now known as Garfield and worshiped with Allen AME Church. They traveled by horse and buggy; old wagons; horseback and on foot through the woods over the ditches and rugged roads to work out their soul salvation. As time moved on many of the worshipers, being old and not too well, felt the distance to and from had become strenuous and decided to seek a closer meeting place. An old schoolhouse on Mt. Zion Hill known as Douglas Road, S.E. was made available. Later the Howard Town folk sought a closer place and began worshiping in the home of one of its members, thereafter building what is now known as Campbell AME Church, Nichols Avenue (now Martin Luther King, Jr. Avenue) and Sumner Road, S.E. By that time the CME Church had come into existence. Those remaining at Mt. Zion continued to worship there until 1875, when they built a church at the corner of Stanton and Douglas Roads, S.E. and named it Israel Mission CME Church, later changed to Hillsdale Station CME and in 1920 changed to St. John CME Church.
FOR ALL QUESTIONS OR HELP WITH ORDERING PLEASE CONTACT:
Daniel Hyatt, Homecoming Chair 301-257-3642 or Cheri M. Hembrey, Brick Campaign Chair, 301-938-7930