Temple Sinai is excited to announce the opportunity to leave a lasting imprint on our religious home. Our Steps of Sinai will be built under the front door portico and as you enter the building for holidays, services programs, meeting friends or just to contemplate, your personalized bricks will be there to greet you before you enter the door.
Brick by brick you can honor or commemorate:
- Your children
- A family member
- A graduation
- Bar or Bat Mitzvah
- A wedding
- Special occasion
- A loved one no longer with us
Bricks can be purchased in two sizes
4" x 8" engraved brick is $360 & 8" x 8" engraved brick is $540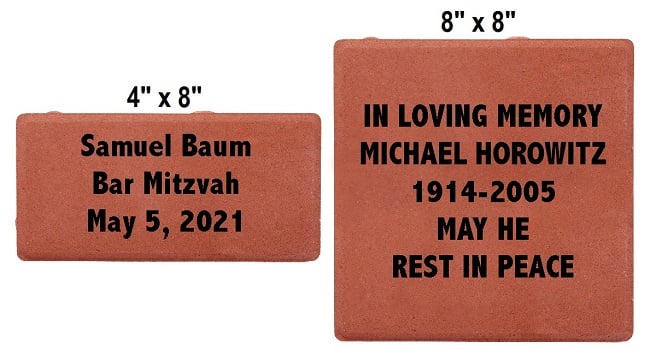 Each brick can have up to 3 lines of text in Hebrew and/or English. You may include up to 20 characters per line including spaces. This will be an ongoing project and we hope additional bricks will be dedicated in the future. Any additional brick dedication after the first would be $180 each FOREVER!
Please complete and submit the online form below.
For any questions, please email [email protected]
or call 908-273-4921 ext. 16