Meet the owners,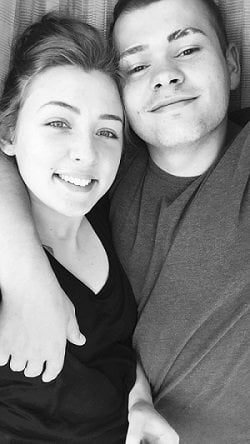 Hello my name is Nicolas, my beautiful wife Sarah and I are both currently active duty Navy sailors. After years of working together, side by side on board the USS Pearl Harbor (LSD-52), Being stationed on opposite sides of the country and 7 ½ long months apart for deployment we're preparing to hang up our dixie cups and close this chapter of our lives. Not just to build a business but to start our beautiful family together. We thank each and every one of you for your love and support. We look forward to seeing you at The Backyard!
Welcome to The Backyard!
Our brick campaign is dedicated to all veterans, current active duty, and reserves. 100% of the profits will go directly to opening The Backyard owned and operated by my loving wife Sarah and I and to the construction of a memorial for all of our brothers and sisters that have served for this great country. The Backyard is a recreational park with fun for the whole family! Come try out some of our unique and delicious food options you simply can't find anywhere else like chicken and waffles on a stick! The Backyard has everything from giant games such as giant chess, giant battle ship, giant jenga, corn hole and many more. With 3 private outdoor movie viewing areas an ice skating rink and over 50 hammocks! We guarantee you'll have a great time. The Backyard isn't just a place to crack open a beer with friends, take your loving spouse on a date night, or simply a quit place to clear your head next to one of our many fire pits with our famous s'mores kit or laying in a hammock under thousands of lights. No! It's much more then that The Backyard will host special events and transform for every major season and holiday, and is also available as a beautiful wedding venue so please help us honor the great men and women who keep this country the land of the free and support us in our transition to civilian life and the start of our business and family. God Bless
Love Mr. and Mrs. Hicks.
*All names submitted are subject to verification. If a member did not or is not currently serving the brick will not be used on The Backyards veteran's memorial and no refund will be issued.