The Honor Walk is a Veterans Memorial to be constructed on the bluff at the Gulf County Veterans Memorial Park at Beacon Hill.

A portion of the funds needed to accomplish this goal will come from friends and family members who choose to purchase an engraved brick to honor or memorialize a special veteran in their life. Two brick walkways will extend twenty feet from the center of the monument in opposite directions.
The park is located on U.S. Hwy. 98 between Port St. Joe and Mexico Beach, on Florida's Northwest Gulf Coast.
Example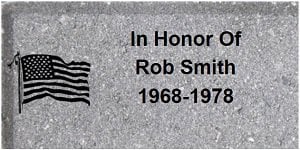 4" x 8" brick with text only $150. Brick with clip art $156
For questions please contact info@veteransparkhonorwalk.com