The Humane Society of Oldham County

The Humane Society of Oldham County has outgrown our small outdated facility and we have launched a campaign to build a new home for the homeless animals of Oldham County. The construction of our 1.3 million animal shelter will soon be underway. The new shelter will be located at 2601 Interior Way in La Grange Kentucky.
We are a no-kill facility that provides medical treatment, shelter and love to animals who have been abused, discarded and overlooked. We find them the happy forever homes they need. We also provide low cost spay/neuter clinic for those who cannot otherwise afford this service and for other animal rescues. More information about our organization can be found at
OldhamHumane.com
Example of the 8"x 8" Engraved Brick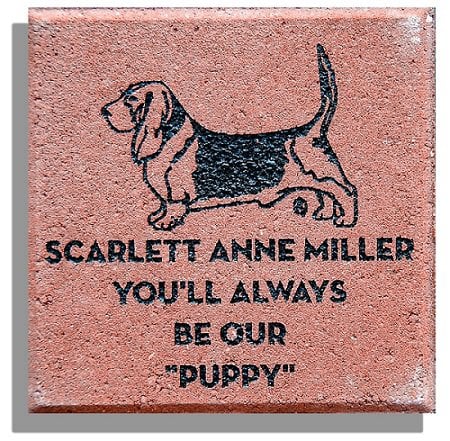 Donations
4 x 8 $100 / With Artwork $110.00
8 x 8 $250.00 / With Artwork $260.00
Our new 5000 square-foot facility has been a vision of the Humane Society of Oldham County for many years thanks to the generosity of a benefactor who donated 7.5 acres of land as well as almost half of the construction cost. The completed shelter offers modernized care, a warm, friendly and safe environment, specialized dog and cat areas and surgical care all under one roof. Outdoor dog runs, a catio and beautiful brick pathways through a memorial garden will finish the new facility to the enjoyment of the animals and community alike. We need the community to help bring us home.
FOR QUESTIONS PLEASE CONTACT LAURA YATES