There is a key to ending homelessness.
A key that provides people with stability, restores dignity, and establishes self-worth. A key that gives children a safe place and their parents means to start over. A key that allows people to be themselves as they work on the barriers and challenges they face.
Shelter Rendering
Housing is the key that transforms lives.
To accomplish our vision, we launched a capital campaign in 2015 to pay the cost of new campus construction. On June 8th, The Kitchen, Inc. broke ground on our new O'Reilly Family Campus. Two buildings will be constructed on the property. The shelter will have 14 apartment
s with a 50 bed capacity and will be the first building completed. Thirteen units will serve single females, families, veterans and youth, while one apartment will be for respite care. The Sam & June Hamra Family Support Services building will house 26 case managers, human resources, accounting, development and the administration office.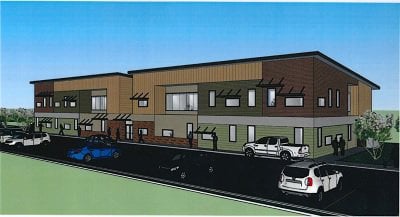 The Sam & June Hamra Family Support Services Rendering
As we continue to focus on our mission "To prevent and end homelessness in the communities we serve by providing housing and stabilizing services with dignity and compassion," we need your help.
See below for brick examples