Tremont City Veterans Memorial Park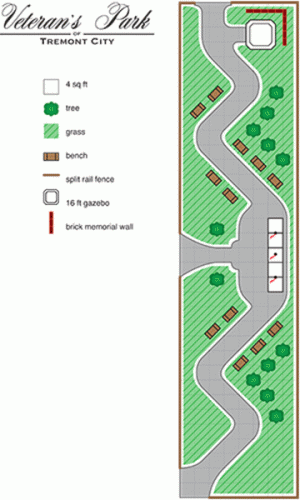 Our Veterans Park is a blessing born out of tragedy. November 2013 our Post Office burned down and the landowner then donated the land to the village. Tremont City has a long history of military service though our population has never exceeded 700 residents. During the Civil War, an Infantry company was formed to fight, this group was made up of village residents. Many families have had multiple service members serve our great Nation, one family presently has 3 serving, with 13 members dating back to WWII to present.
To fund our park we are starting a memorial brick fundraising program. We are offering 4"x 8" or 12"x 12" bricks for purchase as part of the memorial. Your purchase will help in the continued care and operation of the park.
All Veterans are welcome here and this will allow future visitors and family members to honor their Veterans.