United Japanese Christian Church

UJCC Japanese Garden Brick Fundraiser



Members and supporters of the United Japanese Christian Church:
As many of you have noticed, the front of UJCC is undergoing a transformation, from a thirsty green lawn, to a traditional Japanese Rock Garden (Karesansui). By embracing Japanese aesthetics we hope to become better stewards of our precious water. A portion of the garden will be a brick walkway composed of laser-etched bricks with the names of members and supporters of UJCC. Each donated brick will cost $100 with $80 going to the church. Help us complete this memorial by adding the names of your family members, both living and those who have passed. Let us remember forever the other churches, community leaders, organizations and our pets- all who have supported us. The walkway will be able to include new members and supporters over time and will become a living legacy that will be seen by generations to come.
Each brick will be 4"x 8" with a laser engraved inscription of those who you would like to recognize. The inscription can be up to three lines each, containing 20 spaces per line (Including blank spaces, letters and characters). Clip art designs (including Japanese mon or kamon) can be added to the brick (three lines with 15 spaces per line.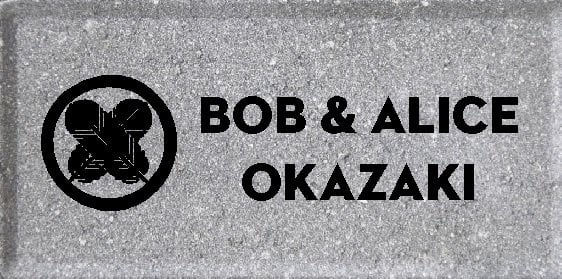 $100 EACH
A portion of the walkway (Pictured) was completed as an Eagle Scout project. If you visit the garden, you will discover the names of almost 100 church members who served active duty in the US Military etched in two granite slabs and a church and family who have donated generously in the past towards a memorial project.
All of us have wondered how we might properly honor and remember those who have contributed so much to our church and our families. This is that opportunity. This path will remind us of all of the saints of the past who founded the Methodist and Congregational Churches and those who support it today.
We hope that you will join us by including your family and loved ones in creating our living legacy.
Completing the form below allows you to directly order your brick. All Pay Pal or credit card payments go directly to the United Japanese Christian Church.
For All Questions or Help with ordering including adding original clip art or kamon, please contact Ernie Kazato.
[email protected]
OR 559.978.7857