University of New Mexico Gallup Branch

Welcome to the University of New Mexico – Gallup Branch Donor Website
Founded in 1968, UNM-Gallup is chartered as a community college and is the largest of four University of New Mexico branch campuses. The UNM-Gallup campus serves approximately 75,000 residents in the greater Gallup/McKinley County region of New Mexico. We are located in a culturally unique region in a state known for its diversity. With a Native American population of nearly 79 percent, the college serves both the Navajo Nation and the Pueblo of Zuni.
UNM Gallup campus has kicked off the Pathway to Education Fundraising to support the renovation of the Lions Hall and for educational materials and resources to create an enhanced learning environment. Lions Hall was donated to the University of New Mexico Gallup Campus in 1969 and became the first building of what has now grown to be a sprawling 87 acre campus with 12 buildings. The first soil was turned at the Lions Hall Clubhouse site in 1954. With the help of at least 250 members over the course of the project, the building was completed in 1968. Almost immediately after being completed, the Lions Club turned the deed over to UNM-Gallup to support the community's desire to have a branch college. The greater Gallup community has always been very supportive of UNM-Gallup initiatives which has allowed for steady growth in both enrollment and programs. Throughout its years, Lions Hall has housed many different programs and departments and occupies a landmark location at the highest point of the campus. The building was closed four years ago due to the need for structural renovation. A comprehensive fundraising campaign has been undertaken to restore Lions Hall to its former glory at which point it will become the new home of the Middle College High School which is an innovative charter school housed on the UNM-Gallup campus. Due to demand, Middle College High School has outgrown the portable buildings it now uses and looks forward to combining old and new by being the new occupants of the remodeled Lions Hall.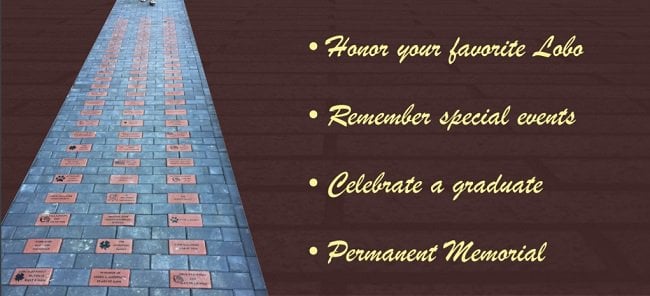 The UNM-Gallup Pathway to Education offers a permanent memorial to honor your favorite Lobo, remember special events, celebrate a graduation or recognize the role of our University in the community. Choose your size and your engraving and become part of the pathway celebrating student success.
Through your support and generosity, the pathway for resources to enhance the learning experience of the many students we serve will create the foundation for future leaders of our community, state and country.