USS DULUTH CREWMEMBERS ASSOCIATION


In a partnership with the St. Louis County Historical Society - Veterans Memorial Hall, the USS Duluth Crewmembers Association is pleased to offer commemorative engraved bricks for purchase.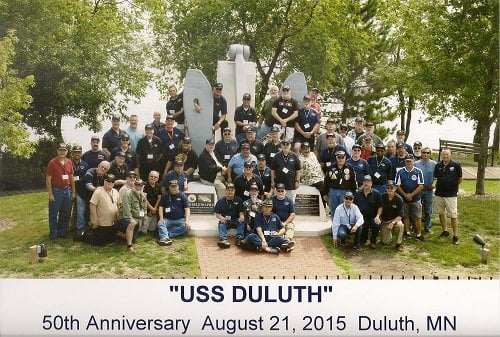 These bricks will be installed in the brick patio at the site of the USS Duluth Anchor Monument on Duluth's LakeWalk, on the shore of Lake Superior – the very special lasting legacy, celebrating the wonderful relationship and bond between the Duluth community and the crew of the ship. Proceeds from the engraved bricks will be used to support USS Duluth museum exhibit(s) in the City of Duluth.
The USS Duluth has a proud 40 year history of representing the name of the City of Duluth throughout the world. Please join the Veterans who served aboard this amazing vessel, in commemorating its service to the United States, U.S. Navy, U.S. Marine Corps and the City of Duluth, MN. Engraved bricks cost $75 each and can be engraved with your name and any other information, including but not limited to, service in a branch of the military.
For questions, please contact Don Rowe at [email protected]