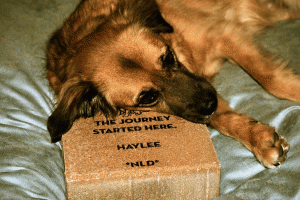 Leave a Paw Print, Save a Life
Within the fences of Walker Ranch is much more than an in-home dog-sitting business. Each animal has a special place in our heart, as they become part of our family while they are under our care. Just as they leave their "paw prints" behind in our hearts (and our yard!), we are asking you to help make a difference and leave your prints behind permanently.
Most pet-owners can understand and truly relate to the companionship an animal can provide to someone. In April 2013 we started building a Paw Prints in Paradise; an idea that would enable us and our extended "Ranch Family Vacationers" to leave some permanent prints behind in the form of engraved brick pavers.
For every brick paver that is purchased by you and engraved with your personalized text, we will begin to make a difference in an animal's life who is in need. Proceeds will be go to a local rescue shelter to help save or sponsor an animal in need.
For any questions please contact Nicole at [email protected].