Weirton Baseball Association

Please support our beautiful Kings Creek Complex and become a part of WBA history!
The Weirton Baseball Association is selling custom engraved bricks that will become a permanent part of the Kings Creek Complex Landscape.
Phase two of this campaign is now underway. Money raised will further fund improvements to the complex such as new scoreboard installation, updated PA system, and training facilities between fields 3 and 4. Further renovations to the complex will be decided as funds become available.
The pavers will be used to further enhance the entrance of the Kings Creek Complex. They will be installed once or twice yearly based on volume. The next deadline for placing orders is June 1st for summer installation.
You can honor a friend or family member, player of any sport, service member, scout, historian, business owner, Weirton resident, alumni or anyone you wish with a customized brick. Teams can dedicate a brick in memory of their season too!
These bricks make memorable gifts for graduates, teachers, coaches, grandchildren, or anyone special.
Bricks can also be used as advertising.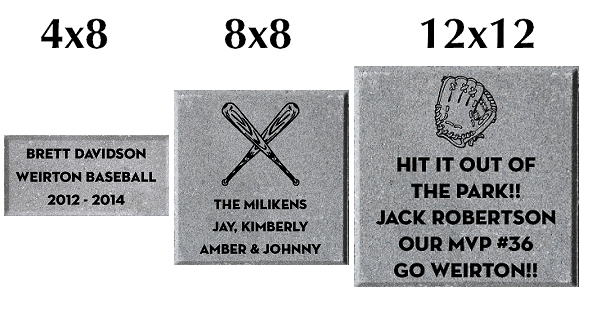 | | | |
| --- | --- | --- |
| Brick Size | Price Text Only | Price with Artwork |
| 4" x 8" | $100.00 | $110.00 |
| 8" x 8" | $150.00 | $160.00 |
| 12" x 12" | $275.00 | $275.00 |
If you would like a special array of 4 12" by 12" bricks for $1000, please download the brochure HERE.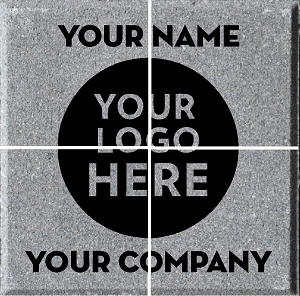 All gifts are tax deductible. Documentation for tax purposes will be sent to the address provided.
There are several sizes and hundreds of artwork options available to help you create your unique piece of WBA history.
PLEASE NOTE: Even though the Payment Option on the next screen only indicates "PayPal", you can still pay with VISA, AMEX, Discover, or MasterCard. Just click on the "PayPal" button and then on the next screen scroll down to the arrow that says "Pay with a Debit or Credit Card" and enter your credit card information.
If paying by check, please submit payment after submitting your online form to:
Weirton Baseball Association
Attn: Shanna Earley
PO Box 2844
Weirton, WV 26062
Make certain that you include in the memo line "Paver" so the funds can be earmarked for the renovation project.
For questions or more information, please contact Shanna Earley at [email protected].