Winchester Community Park

Winchester Community Park celebrated a soft opening of Ryan Connolly Field in early May. Players flocked to the field, enjoying the festivities and opening the field for practices and games. The official dedication ceremonies for Ryan Connolly Field will be held in June.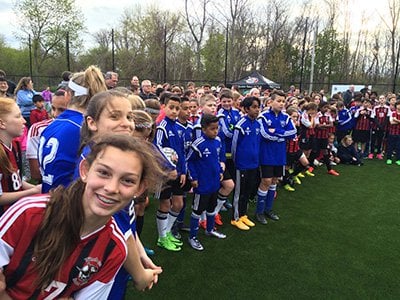 In this aerial picture of Ryan Connolly Field you can see one of the JO Whitten octagonal tank foundations in the lower left hand corner. Converted to serve as the central flagpole base for Winchester Community Park, the octagon will be covered with grey quarry tiles recognizing our supporters & donors.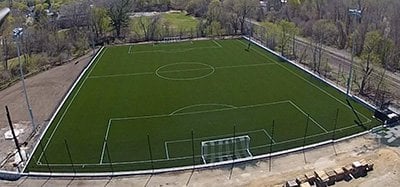 The timeless grey quarry tiles and underlying flagpole base will be centrally located between Ryan Connolly Field and the gorgeous natural grass pitch. The natural grass field, nestled in the bend of the Aberjona River, was just seeded.
Please join us and purchase a handsome quarry tile today. The proceeds will help ensure that we begin construction of the Fieldhouse @ Winchester Community Park this summer. Construction of the fieldhouse foundation and enclosed turf field are well underway. Both players & guests can see the site of the Winchester Soccer Club's future fieldhouse as they walk to Ryan Connolly Field from our parking lot. Visit Winchester Community Park today and see for yourself !!!
The future home of the Winchester Soccer Club, will you help us build it?