Kappa Alpha Psi Fraternity Inc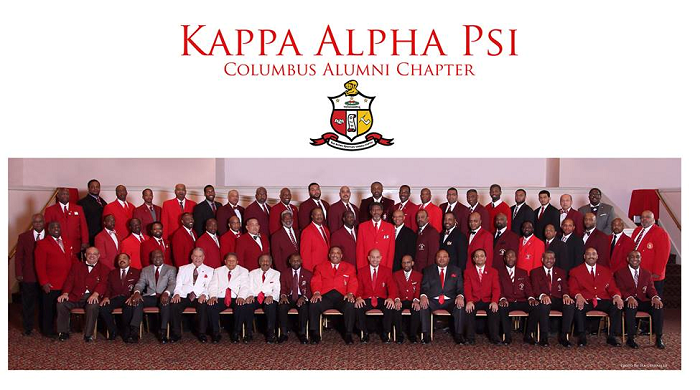 The Columbus (OH) Chapter of Kappa Alpha Psi Fraternity, Inc. is offering a unique way for a brother to show their Kappa Spirit by becoming part of the Kappa Walk of Fame. In January of 2019, the brothers of Kappa Alpha Psi Fraternity Inc. Columbus (OH) Alumni Chapter, started a fundraising brick committee.
This is a chapter fundraiser. The Kappa Walk of Fame (similar to the Hollywood Walk of Fame) is a brick program to be installed in the backyard of the chapter property. Members of the Fraternity along with family and friends are encouraged to leave a lasting legacy of their affiliation with Kappa Alpha Psi Fraternity, Incorporated. Anyone can purchase a brick tribute for any Kappa Alpha Psi Fraternity member (financial or non-financial). The installation is a great way to highlight your name, Chapter of initiation, and the date you became a member. By purchasing a brick in the Kappa Walk of Fame, a brother has the opportunity to leave a legacy in an engraved inscription and help the chapter's initiatives.
The program is open to all members of Kappa Alpha Psi Fraternity, Incorporated. Posthumous members can be installed by families and friends. Purchasing an engraved brick immortalizes your name, or a family member, a friend, founding member, or distinguished member. Your tribute supports the operation of the Columbus Chapter of Kappa Alpha Psi, Fraternity, Inc. The brick committee is expecting to pave the bricks into a unique layout in which an individual can walk up and see the memorial of bricks purchased.
Personalized laser engraved bricks are a commonly used tool for fundraising . Many institutions such as libraries, schools, churches, and hospitals are turning to brick fundraisers to raise money and beautify their buildings and communities at the same time . By using engraved bricks on a donor wall or on a memorial, the organization can provide their supporters with permanent donor recognition Brick fundraisers offer custom signature brick engraving for builders and developers; it is a great way to build brand recognition. Engraved brick pavers are a fun and profitable fundraising idea for any organization wanting to raise money. The bricks are durable and have been tested to last years. The engraved brick pavers meet ICPI (Interlocking Concrete Paving Institute) standards.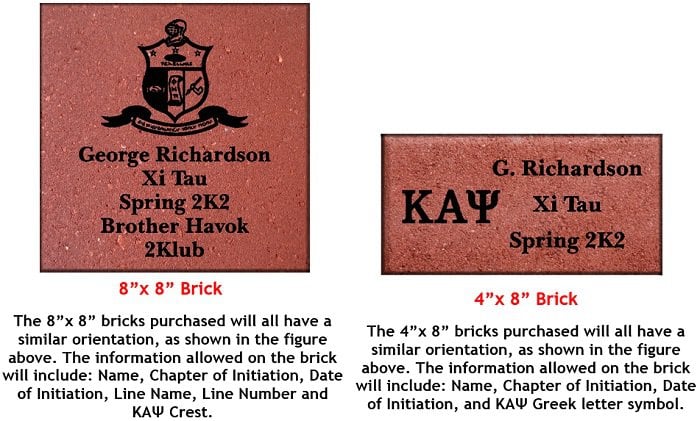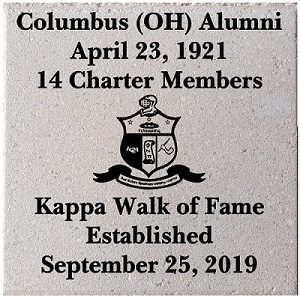 12"x12" Brick
12"x12" Brick purchases will only be available to Chapters.
Figure 3: Budget
Brick Prices
•
12"x12" = $500 (Chapter Bricks Only)
Note: Additional $50 fee for non-financial members that purchase bricks
Non-Financial members Brick Prices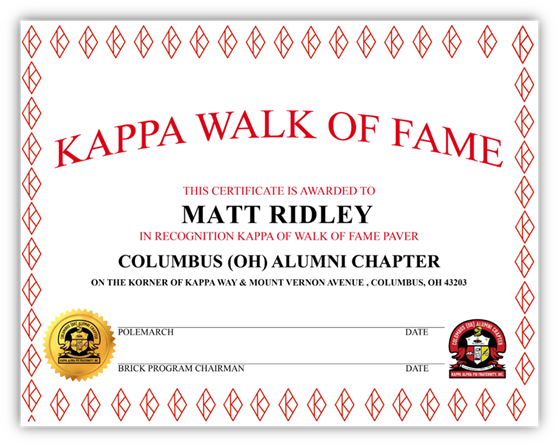 With a purchase of a brick paver, an individual will receive a certificate to keep a record of the brick purchase.