ENGRAVED TILES OR ETCHED TILES ARE EASY TO INSTALL: YOU JUST NEED A WALL!
Polar Engraving offers quarry, black sugar ceramic, and black granite personalized engraved tiles as an alternative or as an add-on to an engraved brick fundraiser. The laser-etched tiles can be placed on a donor recognition wall located indoors or outdoors. The custom engraved tiles are 3/8 inch – 1/2 inch thick on average, which makes them much lighter than the usual 2 3/8 inch fundraising bricks. For more information, go to our detailed tile pricing page.
BLACK SUGAR
The newest product is our engraved black sugar tile. These ceramic tiles have a "black sugar crystal-like structure" that can be used indoors and outdoors. Engraved in a glossy white, they are not only beautiful, but also durable and stain-resistant. The black sugar tiles are great for monuments, Veteran's memorials, dedications, recognition walls, etc. They are of high quality, non-absorbing, resistant to wear, and easy to clean. The tiles would make a beautiful addition to any wall or interior floor. This new and unique engraved tile product is only available from Polar Engraving. The black sugar tiles are available in two sizes, 4" x 8" and 8" x 8".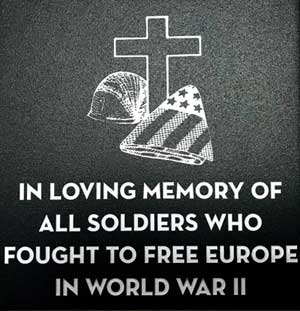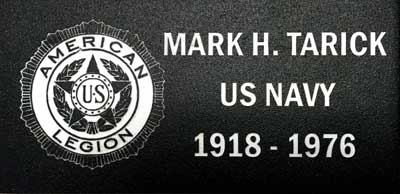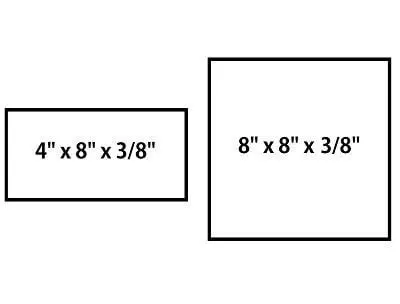 QUARRY
We offer engraved Metropolitan Quarry tiles that are manufactured from clay in a manner similar to bricks. They are very durable; there is no chipping, wearing off, or scratching. They are low-absorption tiles that resist soiling and are suitable for exterior applications such as patios or walls. These tiles are not only stylish but are also long-lasting and can be used in both commercial and residential projects. Metropolitan quarry tiles are made in the U.S.A. and complement any brick fundraising campaign.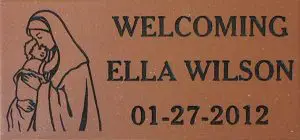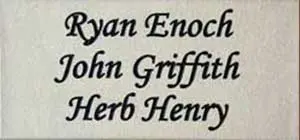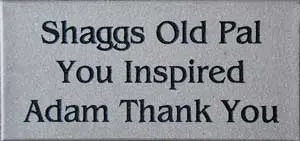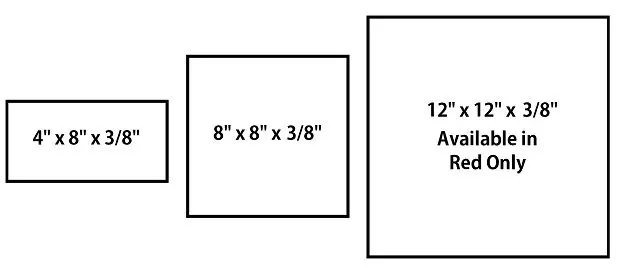 BLACK GRANITE
The black granite tile is engraved in a stylish gold color and can be used for memorials, donor recognitions, and commemorations. They are resistant high-quality natural stone that offers a unique texture and shine and can be placed indoors and outdoors. They only come in one size; 12″ x 12″.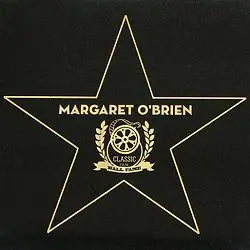 DESIGN AND STYLE
We are able to engrave in any font of your choice and in any language at no additional cost. Not only will your tile or brick project be beautiful, but it will also be unique. Adding clip art or a logo is $6 per engraved image with no additional setup fee. If you have questions concerning what look you would like for your tiles, please contact us at 1-800-546-7993. Also, feel free to play with our brick creator tool to see the endless possibilities of text and clip art you can add to your brick.
CHARACTERS AND SPACING FOR TILE ENGRAVING
Depending on the font type, 18 to 20 spaces per line (including spaces and punctuation) is our standard for laser-engraved tiles without clip art. Below you will find our recommended number of spaces and lines for each size tile. If you have a special requirement, don't hesitate to ask us.
Tile Size
Text Only
With Clip Art/Logo
4″× 8″
Up to 20 spaces per line,
3 line
Up to 15 spaces per line,
3 lines
8″× 8″
Up to 20 spaces per line,
6 lines
Up to 20 spaces per line,
5 lines
12″×12″
Up to 20 spaces per line,
8 lines
Up to 20 spaces per line,
7 lines
OUR TILE ENGRAVING WARRANTY
All of our tiles have a lifetime warranty for legibility. You can see the details of our warranty here.