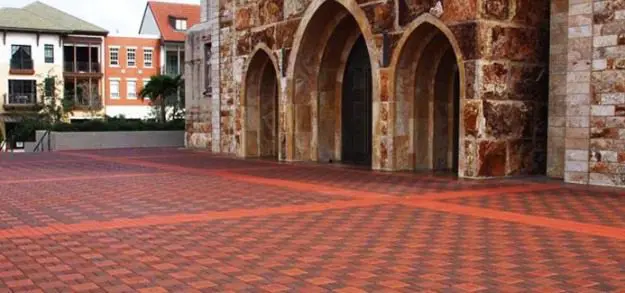 Ave Maria University-Ave Maria, FL
Polar Engraving offers the best price for memorial bricks and has been dedicated to helping organizations achieve successful fundraising campaigns since 1998. You will benefit from our extensive experience with commemorative brick programs and we will assist you from start to finish with your donor recognition project. We will show you how to successfully market your brick fundraiser, we will provide helpful tools and tips on how to maximize the profitability of your fundraiser and we will also help you attain your fundraising goals with your free personalized donor website. To learn more about our free marketing tools visit our Learning Center.
Commemorative brick fundraising, in particular, can be ongoing depending on the type of installation project you choose to do. When you install your memorial bricks in a sand bed you would be able to remove blank bricks and replace them with custom engraved bricks as you continue to sell them. This type of installation would allow you to continue your fundraising efforts for as long as you have blank bricks to replace. Your donors will appreciate the opportunity to have their own personalized memory brick and to be part of your project.
We help plan successful brick campaigns and commemorative brick inscription ideas all the time and would love to help you achieve a very special memorial brick program. Call us directly at 800-546-7993.
Below are a few organizations we have worked with across the country, you can also see customer projects near you.
Boy Scouts of America-Fort Myers, FL
Davenport Theatrical Enterprises-New York, NY
Holy Trinity School-Wallingford, CT
Moose Lodge 257-Cheyenne, WY
Pet Tender Angels-Landrum, SC
The Caring Place-Las Vegas, NV