Offering a replica tile to your donors in addition to their personalized engraved brick or engraved tile purchase is a great way to add revenue to your brick fundraiser campaign. As well, it gives your donors a special keepsake of their purchase.
The cost of a replica tile is $10 when ordered with a brick or tile. See our brick and tile pricing page for additional pricing information.
The replica tile is a 4" x 4" tile with the same engraving including clip art or logo that has been engraved on the larger brick or tile. A Replica Tile is an add-on to an existing order and can only be purchased in conjunction with an engraved brick or tile at the cost of $10.
You can also offer your brick or tile donors a full-size replica brick and tile. This is a great way to increase the profitability of your fundraiser and also allow your sponsors the opportunity to have their own personalized engraved brick or tile as a souvenir. Standard brick or tile pricing will apply.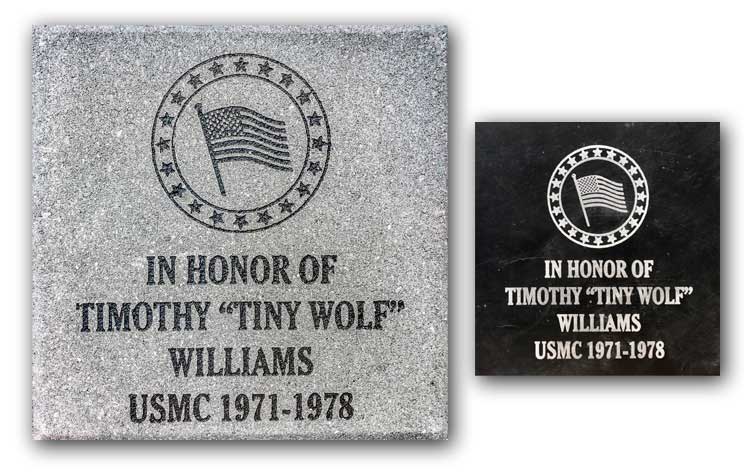 Why Offer Laser Engraved Replica Tiles?
The laser-engraved replica tile can be used in two different ways by the organization in charge of the fundraising campaign:
You can offer the replica tile to donors as a gift, which the organization would purchase as a thank you for his/her participation in your fundraiser. The donor will feel honored and proud to display the replica tile at his/her home or work. They can even be used as coasters!
The laser-engraved replica tile can also be sold as a fundraising item that will bring additional revenue to your fundraiser.
There are no additional clip art charges for replica tiles.
REPLICA TILES CAN ONLY BE ORDERED WITH YOUR ORIGINAL ORDER AND MUST INCLUDE A BRICK OR TILE PURCHASE WITH IT. ALL REPLICA TILES ARE SHIPPED WITH YOUR ORDER AND ARE NOT SHIPPED OR DISTRIBUTED INDIVIDUALLY.
DID YOU FORGET TO ORDER REPLICA TILES WITH YOUR ORIGINAL ORDER? REPLICA TILES MAY BE PURCHASED INDIVIDUALLY FOR $20 EACH.