Diamondhead Community Bandstand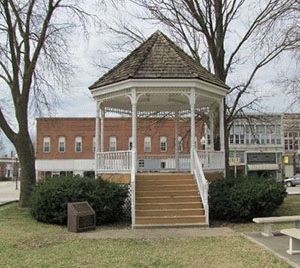 The Diamondhead City Council has authorized the construction of the Diamondhead Community Bandstand on the grassy area in front of the City Hall. It will be an exact reproduction of the 1890 era elevated Victorian bandstand pictured above located in a small Missouri town. This town provided the plans and permission to reproduce it. These plans and the identified location were then reviewed by the City Building Department and a building permit was issued.
The location of the bandstand near the Community Center and closed street will allow the natural amphitheater-like grassy area in front of it to be used by audiences listening to band concerts and other public events. This location will also allow the bandstand to be used as a reviewing stand for parades that form up on the adjoining street. An estimate was obtained for the materials to build the bandstand and four SeaBees have volunteered to build it on their free time. The Diamondhead Bandstand Committee has opened a bank account at a local bank where all donated funds are deposited. All funds will be used to construct the bandstand and accessory needs such as lighting, sound, concrete sidewalk, and related enhancements.
We're offering an opportunity for the community at large to support this project in a number of ways, including the purchase of commemorative memorial bricks which will be laid out in the front and sides of the bandstand. You will be able to personalize an engraved brick with your own message and clip art. Please complete the form below to see a preview of your personalized brick and place your order.
Thank you for your support!