Espiritu Santo Catholic School
LEAVE A LASTING IMPRESSION FOREVER AT ESPIRITU SANTO CATHOLIC SCHOOL! Help us pave the way to a bright Catholic education, one personalized brick at a time. Leave a lasting legacy in honor of your own Espiritu Santo student, family or other loved one. Each brick will become a part of the school's history and be placed along the walkway to the front office.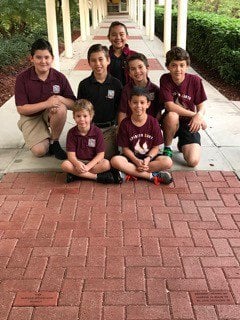 Bricks are available in two sizes - 8" x 8" and 4" x 8", with prices starting at $250.
Deadline to order your legacy brick is Friday, September 30th
Payments can be made online or via check payable to "ESCS HSA" through the school office. Proceeds raised will be used to make capital improvements to our campus.
Espiritu Santo Catholic School models the teachings of the Roman Catholic faith, provides an excellent academic, Christ-centered education in a safe environment, and inspires all to love and serve as Jesus did.
As always, thank you for your continued support of Espiritu Santo Catholic School!

FOR ALL QUESTIONS OR HELP WITH ORDERING PLEASE EMAIL: Ashlee Miller at
[email protected]
or
[email protected]
FOR THOSE WANTING TO ORDER ONLINE PLEASE GO TO :

THEN COME BACK TO THIS WEBSITE, PUT IN YOUR ORDER AND "PAY" WITH A FAKE CHECK #
PLEASE NOTE: FOR 8X8 BRICKS WITH CLIP ART PLEASE LIMIT YOUR TEXT TO 5 LINES AND 20 SPACES PER LINE