Welcome to Faith Farm Ministries, "Paving the Way Forward"
Brick Fundraiser
Faith Farm Ministries has been standing on the front lines in the war against addiction for over 70 years. Our ten-month men's and women's addiction recovery program focuses strongly on the believers' Biblical identity in Christ and being transformed by renewing the mind to the fantastic Truth of the Gospel. Faith Farm Ministries, on average, reaches 3000 men and women a year from across the country on all three of our campuses.

We are excited to announce the fundraising campaign for Faith Farm, which we have named the "Paving the Way Forward" initiative. Inspired by the Holy Spirit, we plan to repave the front of our church here at the Boynton Beach campus using an engraved paver that donors can purchase.
Paver bricks have a lifetime guarantee and are the perfect way to commemorate: the "In Honor" or "Memoriam" of a pastor, mentor, or teacher that God used to impact their lives positively. In addition, this is a perfect way for our alums of all three campuses to encourage future students who will walk over them for years to come. Even if a student were only with us for a short time, a paver brick is a perfect way to honor the Lord for his work in their lives and would still be inspiring. Finally, engraved bricks are a fantastic way for our customers and community members to praise the Lord for the work that He is doing here at "The Farm." Would you prayerfully consider partnering with God and helping us pave the way forward in saving lives by purchasing a brick?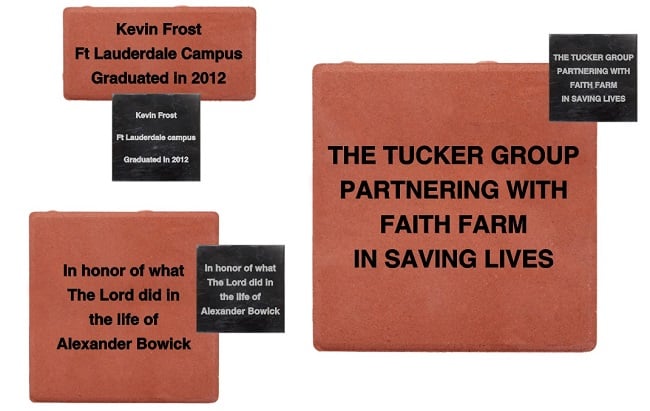 For any questions, please contact [email protected]