Hopewell Valley Central High School
ATTENTION: All Hopewell Valley Families!

We are excited to offer this wonderful opportunity to
commemorate students or teachers at HVCHS!
The HVCHS PTO is selling engraved 4x8" red concrete commemorative bricks. These bricks will be added to the initial installment, which surrounds the school's flagpole and is adjacent to the beautiful new front entrance to Hopewell Valley Central High School. The area around the flagpole is approximately 50% sold – be sure to purchase your brick before this limited space is sold out!
When you purchase a brick (or bricks!), you will be leaving your permanent mark of support and creating a legacy for those you choose to honor. Buy a brick and leave your mark in the community for years to come! Bricks can be engraved with custom text and clip art. Take this opportunity to create a brick for a past, present or future graduate, or design a brick to honor and pay tribute to a special HVCHS teacher.
The price of each brick is $100. In addition to the brick placed in the project, you can also buy a commemorative 4x4" REPLICA tile as a keepsake for yourself!
(All proceeds will go to support HVCHS PTO)
EXAMPLES: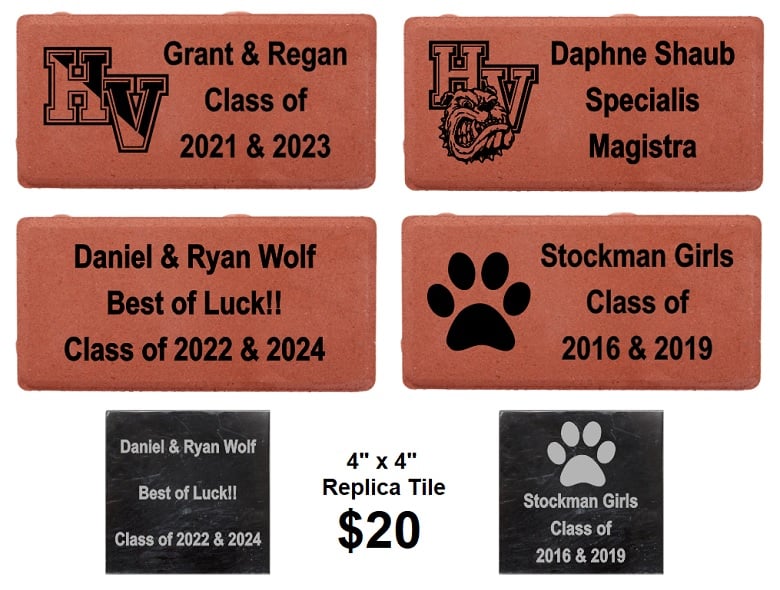 If you have any questions, please contact:
Lindsay Petropoulos
email- [email protected]