Jackson County Chamber of Commerce
The Jackson County Chamber of Commerce is located in the Historic Hooper House at 773 West Main Street in Sylva, N.C. The building is maintained by the Hooper House Preservation Foundation and is on the National Register of Historic Places. The Hooper House was built in 1905 and the Jackson County Chamber of Commerce was established in 1923, exactly 100 years ago!
To celebrate our centennial anniversary, the Jackson County Chamber of Commerce and Historic Hooper House Preservation Foundation are teaming up offer visitors, locals, businesses, non-profits, and other organizations the opportunity to purchase paver bricks to support both entities. These bricks will be offered in three sizes, at different price points, with options to purchase with text only or logos and text recognizing military service, collegiate affiliation, business logos, and more.
The pavers will be installed on the south side of the chamber/Hooper House lawn on Main Street in Sylva. This is a central hub of the largest town in Jackson County and home of our largest visitor center. The chamber welcomes thousands of visitors each year, so the visibility of the pavers will be immeasurable. This is a perfect opportunity to recognize a loved one, your business or organization, a pet, or anyone for years to come at one of Jackson County's most visited spots. We're located directly in front of the historic Jackson County Courthouse, which is reputed to be the most photographed courthouse in N.C. We plan to make the final landscape of the paver project an area for picnics, reading, relaxing and potentially chamber gatherings with music, markets and more.
Profits from paver sales will help the Chamber and Hooper House Preservation Foundation address and sustain several maintenance needs at a time of rising building and material costs. Please help us reach our paver goal so we can continue to keep one of Jackson County's most historic landmarks shining for 100 more years and beyond.
The Chamber (501c6) and Hooper House Preservation Foundation (501c3) are both non-profit entities. We hope you'll considering helping us continue helping Jackson County. It's a perfect opportunity to put your stamp on Jackson County and support a worthwhile cause. We thank you in advance for your supportive consideration.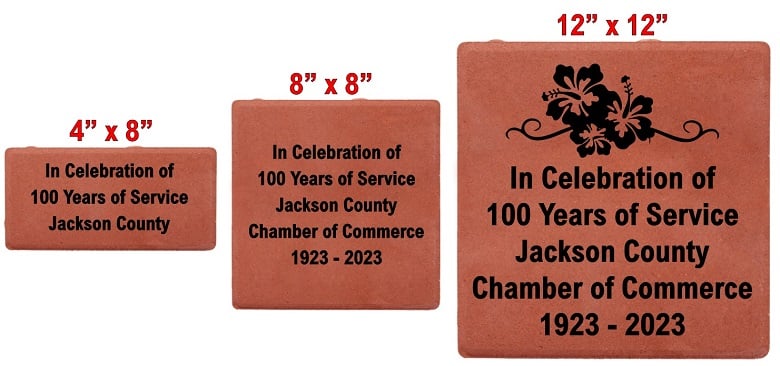 If you have any questions, please contact Julie Spiro Donaldson [email protected]