Jersey Shore United is a nondenominational Christ-centered organization in New Jersey that provides spiritual and physical aid to those most hurting after a natural or personal disaster. Jersey Shore United exists to give back hope to the hopeless, restore the broken, and heal the hearts of the wounded by sharing the light, love, and hope of Jesus Christ.
Jersey Shore United has provided community care for over 10 years, assisting over 850 families go home by granting over 3 million dollars in support and tens of thousands of volunteer hours to get families safe. JSU has trained hundreds of young teenagers and college students to learn the trades, volunteer in their communities and share the hope of Jesus when families need it most.
By investing in our brick memorial fundraiser, you allow JSU to complete our building project. The pandemic threw us a curveball that delayed our project. Now closer than ever, we need your help. Our Volunteer Cabin will house domestic missionary teams from all over America during the summer months. This 3 bedroom, 1 bath, nearly 1000 sq ft (0.93 a) home will house teams of 10-12. By purchasing a tile or brick, you will also be honoring your family or a loved one passed for decades to come. We are basing our fundraiser on Joshua 4:4 in the bible, when God told Joshua to have each tribe take a stone from the river bed in remembrance of God's grace and blessing to His people.
Another blessing to this project is it is located in Toms River. It is a tangible project you can actually visit and see exactly what your support will be doing.
Won't you come alongside us on this very important and critical project to keep God first place in our community? Through our personalized brick memorial website, you can design your very own tile or brick.

There are a very limited number of 8" X 8" tiles that will be displayed prominently on the front entrance wall or just inside our entryway. You may purchase a 4" X 8" Tan Bricks that will either be placed in the walkway front and center of the building or the sidewalk-of-honor that led to the steps of our upper deck. Regardless of your choice, this will honor your family, honor our Lord, and allow us to complete our building project. Thank you for taking this journey with us. May God bless you as you give.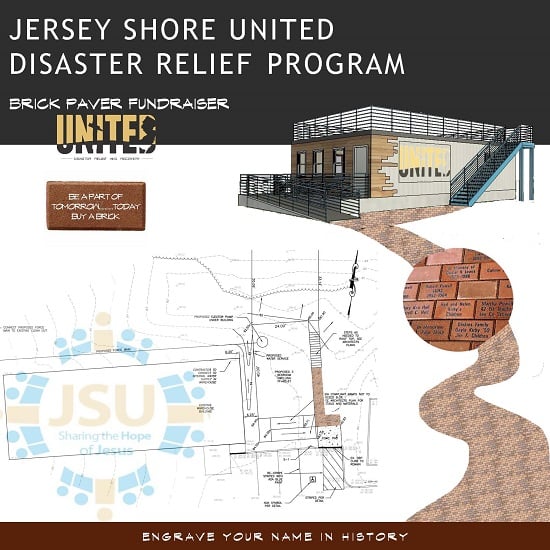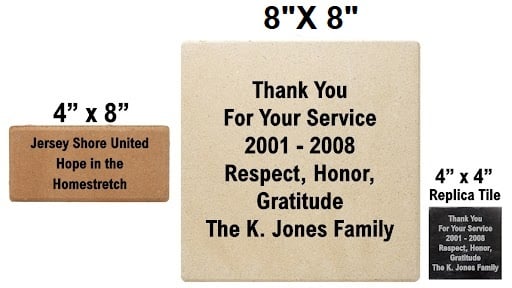 For any questions, please contact [email protected]