Buy a Memorial Brick, Leave a Legacy. Support our Mission.
Lacawac Sanctuary Veteran Brick Campaign
Commemorate members of your family and others who courageously protected our country, the United States of America, by participating in the Lacawac Sanctuary Foundation Veteran Brick Campaign.
The campaign is a tribute to veterans who served in the military and individuals who provided support services, keeping our country safe and free.
The bricks will be placed around Lacawac's new flagpole dedicated to all veterans, located in front of the Coulter Visitor Center. All proceeds will support Lacawac's mission and work.
Paver Bricks have a lifetime guarantee and are an ideal way to commemorate:
Your family and its members
"In Honor" or "In Memoriam" of loved ones
Veterans that served.
Below are examples of virtual bricks we add to each donor website based on your selection.
Polar Engraving also offers a Replica Keepsake Tile. This 4" x 4" black granite tile is a mini version of the brick/tile that you can keep at home.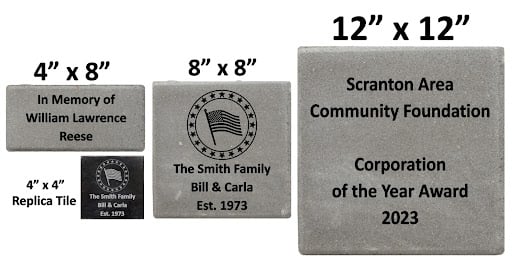 For more information, contact us or follow us on social media:
Craig Lukatch, President
Lacawac Sanctuary
94 Sanctuary Road
Lake Ariel, PA 18436