National Medal of Honor Heritage Center
Leave A Lasting Tribute to Your Hero
At the National Medal of Honor Heritage Center
The "Bricks of Honor" program began as part of the initial capital campaign for the Heritage Center and continues to provide a wonderful opportunity for you to honor your hero. By purchasing a commemorative brick, you will be leaving a lasting tribute to a fellow veteran, family member, loved one, or a business. These custom-engraved pavers are unique gifts for memorials, retirements, promotions, graduations, anniversaries and more.
Opened on February 22, 2020, the National Medal of Honor Heritage Center is located in the heart of where its heritage started back in 1862-1863 – Chattanooga, Tennessee. The Heritage Center's mission focuses on protecting and preserving the important heritage of our country's highest military award for valor – the Medal of Honor – and serve as a lasting tribute to all Medal of Honor recipients – from the first recipients of the Medal in and around Chattanooga during 1862-1863 to those who have received this honor since – including the 32 recipients accredited to the state of Tennessee.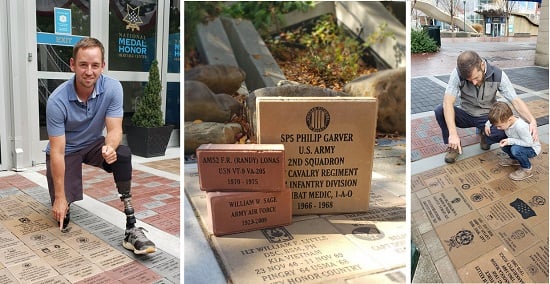 More importantly, the Heritage Center's mission centers around our collaboration with the Congressional Medal of Honor Society and its Character Development Program. Through this program, we are working to educate the next generation of Americans about the six character traits that embody the Medal of Honor – Patriotism, Citizenship, Courage, Integrity, Sacrifice and Commitment – and inspiring them to emulate these six values to make an impact in their community. With each passing day, this mission is becoming more and more relevant as our children, look for inspiration on how to face and overcome the challenges we are facing today.
With your gift of a Brick of Honor, you can help support and sustain this lasting tribute to these genuine American heroes who represent the best and bravest values of all who have served and sacrificed in defense of our nation.
Bricks of Honor pavers are unveiled at special dedication ceremonies several times a year. These ceremonies – scheduled around National Medal of Honor Day on March 25, July 4 weekend and Veterans Day weekend – are a touching and memorable experience for friends and families to share. Please call 423-877-2525 for specific details on ordering deadline for each ceremony, which is typically 25 days prior to the dedication ceremony.
We currently offer the following brick options:
| | |
| --- | --- |
| Brick Size: | Price: |
| 4" x 8" | $150 (Text Only) |
| 8" x 8" | $1,000 (Text / Logo) |
| 12" x 12" | $5,000 (Text / Logo) |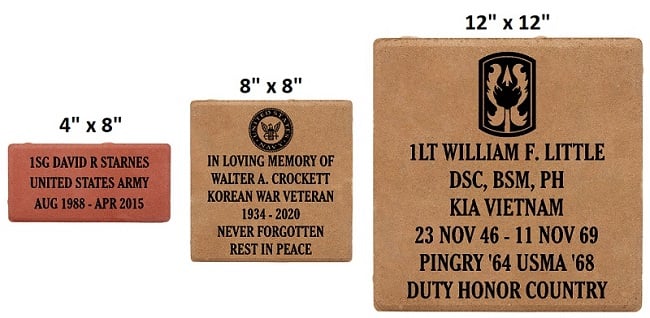 To purchase your commemorative brick today, please complete the form below and click the "Continue" button to personalize your brick and process payment. If you have questions or need additional information, please send an email to [email protected] or call (423) 877-2525.
Disclaimer: Your purchase of an engraved brick is a tax-deductible contribution and will support the mission of the Charles H. Coolidge National Medal of Honor Heritage Center. The Heritage Center reserves the right to deny orders for bricks with inscriptions that may be considered inappropriate, offensive or do not align with the Heritage Center's mission to memorialize the heritage of our nation's highest military award for valor – the Medal of Honor – and educate future generations of Americans about the six character traits associated with their gallantry.
If you have already purchased a brick and it has been installed, you can click here to find the location of your brick.
Brick Locator