Exciting Updates at Miles College!
Introducing New Prices!
Effective July 1st, 2023
Alumni Plaza: Brick Pavers and More
At Miles College, we are proud to announce a fresh start and exciting changes coming your way. We invite all alumni and friends to leave a lasting mark on our esteemed campus, which has been a beacon of education since its founding in 1989. Experience the Alumni Plaza, a dedicated space that allows you to customize your contribution and honor those who have made a significant impact on our college.
Discover the features of Alumni Plaza:
Custom Brick Pavers: Personalize your message and leave an enduring legacy on our campus walkways.
Dedication Pots: Showcase your support with beautifully designed pots that symbolize growth and unity.
Dedication Benches: Choose between durable iron or stone benches, providing a comfortable space for reflection and connection.
Aluminum Dedication Numbers: Display your dedication prominently with sleek aluminum numbers.
Miles "M": Showcase your college pride with the iconic Miles "M" emblem.
Original Bell Display: Witness history as the bell, dating back to 1906, is elegantly presented on a brick and stone platform, protected by a transparent acrylic case.
Take advantage of this perfect opportunity to honor those who have made a significant difference at Miles College. By participating in Alumni Plaza, you contribute to the ongoing legacy of our institution while leaving a tangible mark that will inspire future generations.
For more information or to make your contribution, please visit our website or contact our dedicated team.
Let's embrace this new chapter together as we celebrate the spirit of Miles College and its esteemed community.
If you have any comments or questions, please contact:
Director of Alumni Affairs
JamesAaron L. Pierre Jr
at 205-573-4991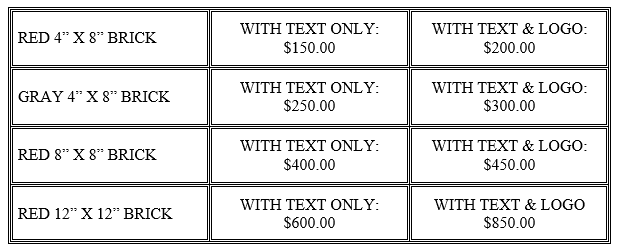 As well, you can purchase the following items: