Oklahoma City Indian Clinic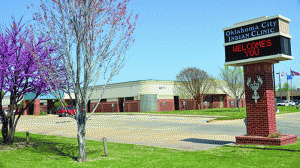 While access to quality and affordable health care services is a serious concern for many Oklahomans, American Indians in Oklahoma face even greater challenges.


Since 1974, the Oklahoma City Indian Clinic has worked diligently to increase access to quality health care and wellness services and produce positive outcomes for urban Indians living in central Oklahoma. Our services reach more than 18,000 patients from more than 220 federally recognized tribes annually. Of those patients served, nearly 25 percent are under the age of 18.
Where our clinic fails to meet the needs of our patients is in our pharmacy. Construction of a new pharmacy is desperately needed. In 2012, the OKCIC pharmacy staff filled more than 200,000 prescriptions in a 900-square-foot workplace with very little storage or space for one-on-one patient consultations.
THE OKCIC CAPITAL CAMPAIGN IS A $2 MILLION ENDEAVOR THAT WILL PROVIDE FUNDING FOR A NEW 4,000-SQUARE-FOOT PHARMACY that will be constructed directly west of the Corrine Halfmoon Medical Building, giving our pharmacy staff the capacity to fill more than 700,000 prescriptions a year, hold educational seminars and provide confidential patient consultation. Additionally, the new pharmacy will include drive-through operations that will add convenience and help us provide better patient care.
While the clinic receives the majority of its operating funding as a contractor for Indian Health Service, funding to complete this campaign will come from our community. We hope you will help us create a larger community of wellness and care for urban Indians in Central Oklahoma.
Central Oklahoma American Indian Health Council, Inc. dba Oklahoma City Indian Clinic is a 501(c)(3) non-profit corporation