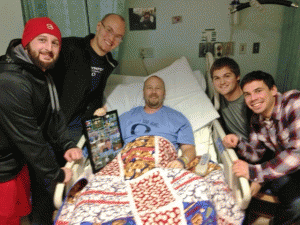 Sometimes life throws you a curve ball and you need to swing away and hopefully get as many bases as possible!




Coach McDougall is in a fight to do just that and needs our help to assist him and his family.
Todd has been diagnosed with Stage 4 Brain Cancer.
Medical and other costs are piling up and you can be part of the 'team' to decrease these.

We are offering the opportunity to order a 6" by 6" or 12" by 12" ceramic tile. the tiles will be displayed onto a mobile display and exhibited at baseball games and other sporting events.

You can write what you'd like and add a clipart if you wish.
ALL of the proceeds will go to the McDougall family.
If we can take some burden off of this family during these trying times, it would be greatly appreciated.

This sale is ongoing and has no timeframes.

Thank You, Olympia Diamond Backers.