Chesapeake Athletic Boosters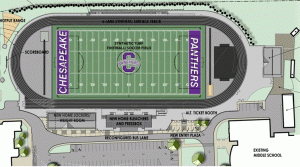 The Chesapeake Athletic Boosters introduces...
The Panther Pavers Brick Campaign
to help put the finishing touches on the new Chesapeake High School Athletic Complex.
All proceeds will go toward the completion of the new complex.
The Panther Pavers will be placed inside the stadium in a designated donor area near the new concession stand. Panther Pavers are brown bricks (to match the brick on the existing buildings) with black engraving.
The bricks are available in
4"x8"

no logo

$150.00

4"x8"

w/logo

$160.00

8"x8"

no logo

$325.00

8"x8"

w/logo

$330.00

4" x 4" Replica Tile (same text/logo as your brick) $35.00
They will be engraved with the wording and/or logo of your choice.
Please refrain from uploading your own logo/clip art, we only accept selected logos/clip arts in the box above. Thank You.
They are made of concrete for durability and both the brick and the engraving are guaranteed not to crack, chip, fade or peel for the lifetime of the brick. Any damaged brick is guaranteed to be replaced at no cost to you.
You can also enjoy a 4" x 4" replica tile of your Panther Paver.
After first purchasing a Panther Paver brick, replica tiles are available to display in your own home. (Layout of the 4" x 4" tile may differ slightly from the 4" x 8" brick due to size limitations.)
Current Students... Alumni... Community Members... Past or Present Teachers, Staff, and Administration... Memorial Pavers... Honorary Pavers... THE POSSIBILITIES ARE ENDLESS!
The Panther Pavers Brick Campaign is a great way to honor anyone who ever attended, taught, served, or supported the Chesapeake School District.

Panther Pavers are available on a first come first serve basis and space is limited, so ACT NOW!
Order your Panther Paver today and LEAVE YOUR LEGACY at the new Chesapeake High School Athletic Complex! Please help make our campaign a huge success.
Thank you for your support.
***All paver orders must be paid in full or your order will not be processed for engraving. ***