Prince Of Peace Catholic Church

LEGACY COURTYARD
As a part of our PRINCE OF PEACE - VISION 2025, our MISSION is to recognize those who have contributed to our community and the City of Mobile.
This LEGACY COURTYARD is a near-permanent place to HONOR your:
FAMILY MEMBERS & FRIENDS

ELEMENTARY, MIDDLE, HIGH SCHOOL OR COLLEGE CLASSMATES, CLASSES AND/OR GRADUATES

FRATERNITIES, SORORITIES AND OTHER SUPPORTING ORGANIZATIONS

MEMORABLE EVENTS

OTHER HONORABLE PEOPLE OR MATTERS
ANYONE can CONTRIBUTE to this LEGACY COURTYARD ----YOU DON'T HAVE TO BE A MEMBER OF PRINCE OF PEACE CATHOLIC CHURCH
You can purchase your brick using this website: insert your brick inscription, select clip art (optional), review your completed brick, and pay.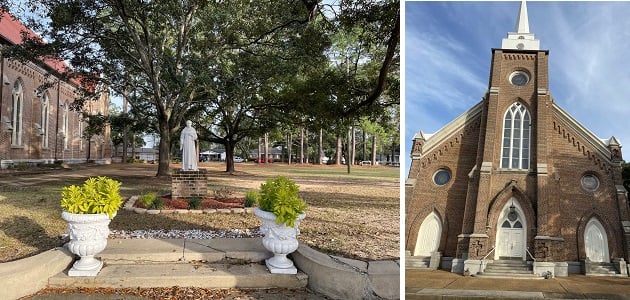 SPECIAL DISCOUNT OFFER:
SINGLE BRICK COST $250.00 EACH--------------PURCHASE 2 OR MORE BRICKS AT ONLY $200.00/BRICK
Complete your multiple brick orders TODAY - separate orders for each brick required: order multiple bricks on the same day, if possible.
EARLY ORDER BENEFIT - We will install bricks from the front to the back of our courtyard as they are ordered and delivered.

If you have any questions, contact [email protected]