Become a Part of Ram History and Help us Bring
Friday Night Lights to Old Saybrook!
Rays for Rams is selling engraved bricks as a fundraiser to bring field lighting to the OSHS Turf Track and Field. This is an opportunity for ALL current students, alumni, former Ram athletes, former pep band members, families, community members, past or present coaches, teachers, administrators, businesses, clubs and organizations to leave a legacy. Bricks can be personalized with your name, name of a family member, in honor of, in memory of, or in the name of your business, club or organization. Engraved gifts make a thoughtful graduation gift for OSHS seniors! Your engraved gift will be used for a decorative landing that will be located near the entrance to the OSHS Turf Track & Field to enjoy day or night!
Here are some ideas for buying bricks:
Buy a family brick.
Honor your favorite Rams player, coach or team.
Honor your child and add their graduation year.
Show your business support.

Personalized bricks are being sold at the following three levels, and can be purchased by credit card payment via PayPal, or by cash or check (mailed to Rays for Rams, 302 Main Street, Old Saybrook, CT 06475).
Clip art is an additional $15.
Dozens of clip art options are offered, including the OS and Ram logos, various sports and art icons. Corporate logos can also be submitted!
The deadline to order your brick(s) is March 1, 2022 -- we hope to get the lights up soon!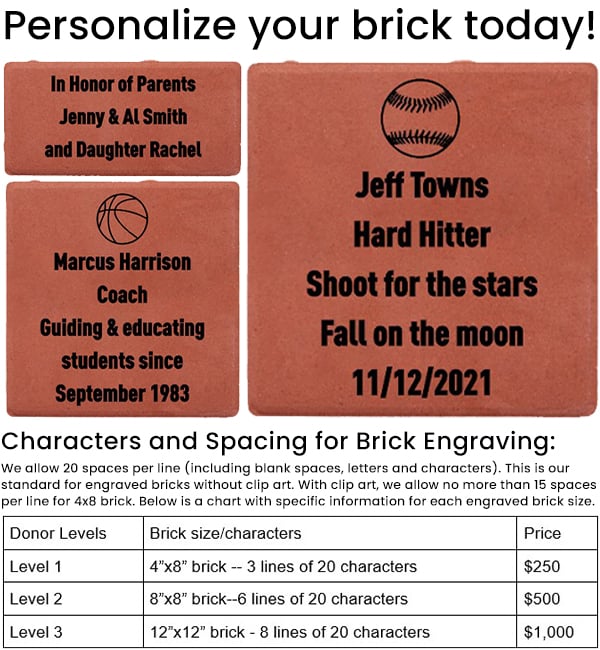 If you have any questions, please send an email to Meghan Brady at: [email protected]
Who We Are
We are a group of Old Saybrook residents committed to enhancing positive experiences for students and families. We believe the installation of the lights at the OSHS Turf Track and Field will provide positive experiences for student athletes and families for decades to come! Our goal is simple -- to raise the balance of the funds needed to install the lights on the turf field for our RAMS!
*Installation of the bricks will occur after the lights project to avoid delays and disruptions for our athletes.