The Brunswick Riverwalk Veterans Memorial
The Brunswick Riverwalk Park at Belville Veteran's Memorial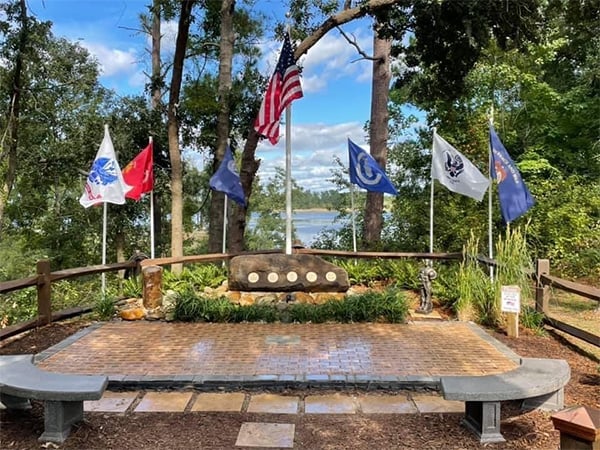 ** We are currently not taking any new orders at this time. **
Take part in the Belville Riverwalk Veterans' Memorial by purchasing a brick for a veteran for just $60.
These engraved bricks will be installed permanently in the apron in front of the boulder.
Buying a brick is the one gift that truly keeps on giving. There is no better way to honor a veteran or service member than by this recognition. A single 4"x8" brick can be laser engraved in black, with your choice of wording and clipart. Bricks will have 3 lines of text and a maximum of 15 spaces with clipart and 20 spaces without clipart. You can also order a mini 4x4 replica tile of your brick for only $25 with your order. It may take time to collect enough
orders before being submitted. We will notify you when your brick is installed on site.
The Grand Opening Dedication Ceremony was held on Veterans Day, November 11th , 2019 and was a very emotional and celebrated event. We continue to be asked if bricks are still available, we will continue to take orders as long as space permits. Thank you in advance for wanting to take part of this wonderful memorial.
Call the Town of Belville at (910) 371-2456 for more information!
Being a part of the Brunswick Riverwalk Veterans' Memorial, is an incredible opportunity to
touch the lives of many and support an effort that impacts your local community.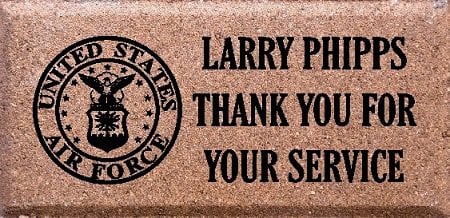 4'' x 8'' Tan Brick - $60.00 with/without clip art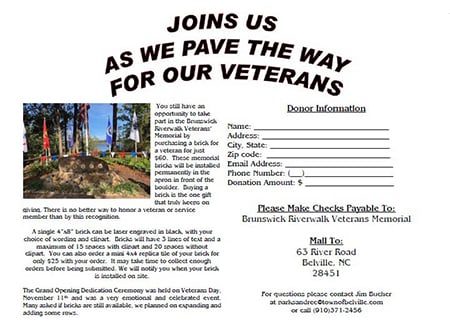 CLICK FORM ABOVE TO DOWNLOAD ORDER FORM
OR SEE BELOW TO ORDER YOUR BRICK ONLINE
Please make check payment payable to: Brunswick Riverwalk Veterans Memorial
Mail payment and order form to:
Town of Belville,
63 River Road
Belville, NC 28451.
See below to order your brick online.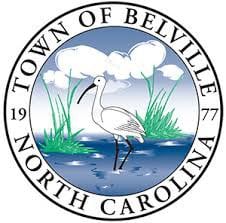 For questions please contact Jim Bucher
or call (910)371-2456