Sarah Mashburn Pavilion-Wayland Bonds Elementary
Sarah's Pavilion will be a place to sit, talk, play, learn and remember. Shane, Angie & Macey want Sarah's memorial to be something that will benefit the entire Wayland Bonds Elementary school for many years to come and want it to be something that Sarah would have enjoyed and would be proud of. They are very excited about this project and would like all of you...Sarah's friends, family, neighbors, etc. to be a part of this very special memorial. They are selling engraved bricks that will create the walkway leading up to the pavilion. They would like to see your name, personal message, family name, business, logo, clip art or even original artwork on this walkway!
You may purchase as many as you would like!
Here are the details!
The walkway will hold approximately 462 bricks... 300 (4x8) and 162 (8x8).
Please help us meet this goal!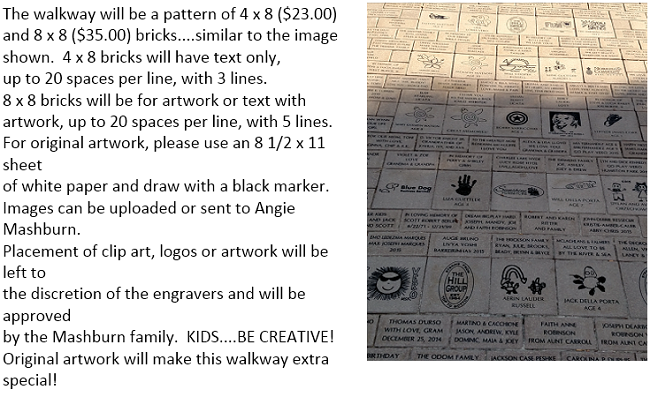 Keepsake tiles (4 x 4) will also be available if you would like a replica of your brick.
Cost is $10.00.
Thank you friends, family and neighbors for making this project possible!