**Fact: According to the NFPA, 71% of all firefighters in the U.S are Volunteer.
Do you want to make a difference in our community? We are 77Rescue.org and we are dedicated to the survival of our local volunteer fire companies and we are starting in Anne Arundel County, Maryland. Our local VFCs depend on funds from others to survive and we depend on them for emergency support. 77Rescue is dedicated to raising awareness for our local heroes helping them receive the funds they need to help others. Help us help those who help you.
Our newest project is "Second Alarm Brewhouse" which will provide much for our community, but most importantly ongoing support for our county's volunteer fire houses. This is where you come in. As a non profit organization we need your financial support to raise the necessary funds to get this project running. But why should you donate? Excellent question. The answer is simple. Donate if you want to make a difference.
Second Alarm Brewhouse is a brick and mortar idea that is the first of its kind. The brewhouse will take over the old bar located next to Riviera Beach Volunteer Fire Department. With the funds raised 77Rescue will turn this old eye sore into a modern coffee house serving up quality coffee while focusing 100% of our efforts on the awareness and celebration of our volunteer fire service. With exemplary customer service, we will offer a vast selection of delicious coffees in a comfortable place to relax. Free high speed WiFi, and a rotation of award winning food trucks will provide customers with a unique and diverse experience every time. A premier social gathering. Don't forget to bring the kids as there will be an actual half a firetruck physically attached to the front of the building for all to explore with functioning lights and switches.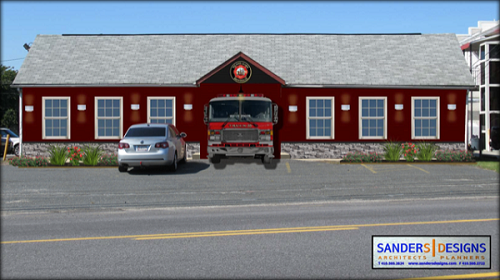 Your donation will make a difference. It will be used to establish a community gathering spot that will support our local volunteer heroes. It's a win-win relationship that we know you will want to be a part of. Donate today and help turn this idea into a reality. Together we can make a difference.
We humbly appreciate your support! Thank you.