Veterans of Foreign Wars Post 6208

"NO ONE DOES MORE FOR OUR VETERANS"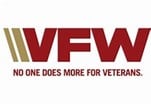 HELP "PAVE THE WAY" WITH A COMMEMORATIVE BRICK & PURCHASE A LIFETIME MEMORY FOR YOUR VETERAN!
The Veterans of VFW Post 6208 Prior Lake and the proud members of its VFW Auxiliary, invite you to participate directly in our transformational renovation. To 'FAITHFULLY' honor our Veterans both past and present, our Architect has designed an "HONOR-WALL". It will be prominently displayed on the interior Northside-community-space wall that runs from the relocated stage to the redesigned fireplace which is viable from every location within the VFW.
Build-brick Honoring the contributions of ANY Veteran or deceased family member.

This first phase of this project will consist of over 500 4x8 bricks in two color choice: 'Beige' & 'Red'.

Larger brick 'array' up to 2'x2' feet are available on a case-by-case basis through an individual approval process.
*Once the renovation is fully funded and complete, all additional proceeds collected will be used to support our local Veterans, their families and deserving Non-Profits in the Prior Lake Community.
Who is VFW POST 6208?
To find out more about who we are please visit our https://www.givesendgo.com/VFWPost6208 page for more information on Our Vision and Our Mission: statement and to see how we help other organizations in our community.
*To set up an event, visit the memorial wall and see updated pictures please visit us at https://vfwpost6208.com/ for more information. Please join us by having your service recognized or the service of a loved one honored.

If you have any questions, please contact [email protected]