Memorial Bricks and Veterans Memorial Bricks
Veterans memorials use engraved bricks or tiles as a lasting way to remember loved ones that have passed away or have been killed in the line of duty. Polar Engraving has engraved thousands of memorial bricks for churches, families, cemeteries, fire and police departments, and Veteran Associations around the country. We also offer brick arrays for creating centerpieces that will enhance and transmit the message behind your brick memorial.
Why Brick Memorial Fundraisers?
Engraved brick memorial fundraisers can be used to help support our service mens and womens after they have come home. Although there are many government-funded programs to help veterans, sometimes the funds provided are still not enough. Fundraisers can help with extra medical expenses, rehabilitation, and care for both physical injuries and mental scars like PTSD (Post Traumatic Stress Disorder). Money raised can aid with the training and care of service dogs that assist our veterans both physically and emotionally. These conditions not only affect our service men and women but they also have an impact on their families. Veteran memorial campaigns can help those who are still serving as well. Your organization can use brick donations to provide care packages for our soldiers and support their families back at home. Memorial brick pavers are a wonderful way to show support and honor those who have served and thank them for their service
Polar Engraving has worked with many memorials and veterans organizations across the country such as the American Legion, AMVETS, Disabled American Veterans, VFW's and many more on their veterans memorial brick fundraising campaigns.
Where do you place engraved bricks or tiles in Veteran Memorials?
 Memorial bricks are mostly placed in the design of walkways, or in memorial parks and gardens in combination with artistic brick arrays.
Memorial Walkways
 A memorial walkway commemorates the Armed Forces who have served in various conflicts around the world. A typical brick walkway will use bricks laid on the ground to remind people of those who have served their country protecting their family and friends, and their futures.
Usually engraved bricks used in a memorial walkway display a simple inscription in a form of a message.
We can engrave in a variety of fonts and languages at no additional cost and also offer the ability to add a logo or an emblem to an engraved paver to make it unique and special in memory of a loved one. A huge variety of walkway designs and patterns are available!

Memorial Parks and Gardens
We offer our unique brick and tile engraving services to be used in memorial parks and gardens. Those places of commemoration give people a place for reflection and mourning and are designed to create a peaceful atmosphere as people walk around.
Likewise, we can help Veterans in creating that special message that will dignify the memory of those who have dedicated their lives to the nation. Furthermore, Polar Engraving gives you the ability to use our bricks and tiles for fundraising purposes.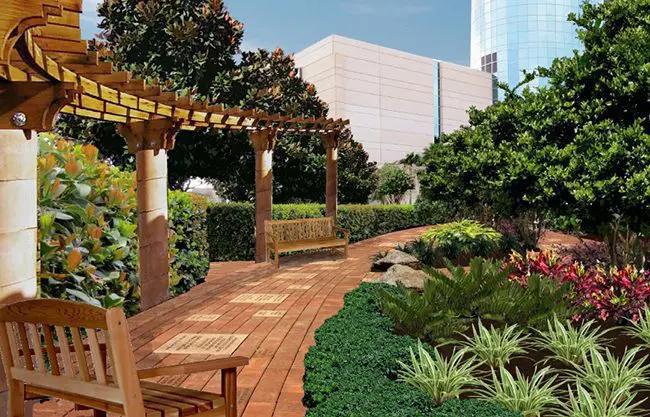 Memorial Brick Arrays
A memorial brick array is the engraving of your message, logo, inscription, or emblem across several bricks or tiles. Arrays are incredibly popular for big fundraising events across all types of organizations, and among individuals who want to remember more than just one person. Examples could include military units, Veterans charity organizations, or list names of veterans who lost their lives – surrounded by the emblem of their unit.

Commemorating Veterans' Day, Memorial Day, and Flag Day.
 Our engraving services for Veterans include but are not limited to Veterans Day, Memorial Day, and Flag Day. We understand that each inscription engraved is a tribute to the life of a hero, a father, a son, a mother, or a daughter – but we recognize that it is also more than that.
Polar Engraving works with you to make sure that you have a message to remember your loved one on November 11th on Veterans Day, to create a tribute to those who have died while serving in the US Military on Memorial Day, and to celebrate the creation of the flag of America, as well as the United States Army, on June, 14th.
We want to make sure that you can leave a special mark with a lasting impression for years to come.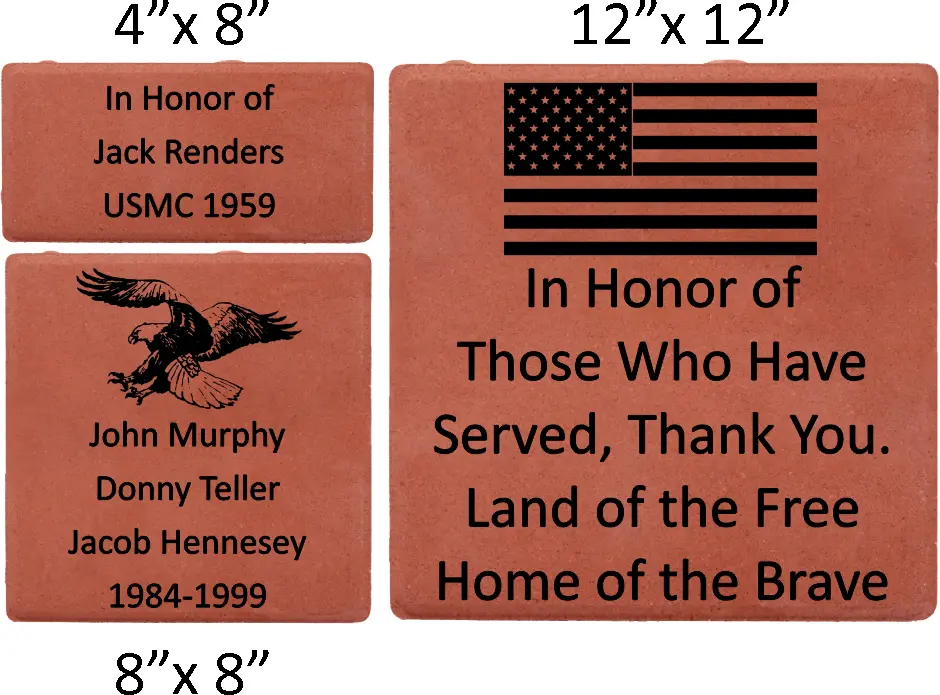 Polar Engraving works with you to make sure that you have a message to remember your loved one on November 11th on Veterans Day, to create a tribute to those who have died while serving in the US Military on Memorial Day, and to celebrate the creation of the flag of America, as well as the United States Army, on June, 14th.
We want to make sure that you can leave a special mark with a lasting impression for years to come.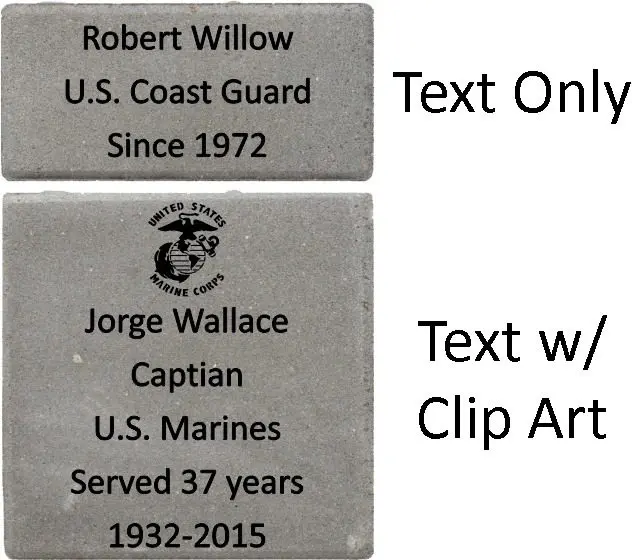 Can I use US Military emblems and logos?
 Polar Engraving is now the ONLY brick engraving company in the United States that is officially licensed to use the emblems of all five branches of the US Military: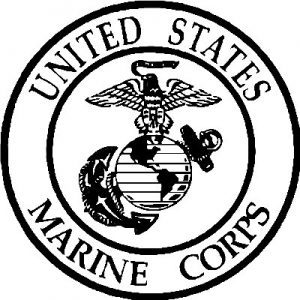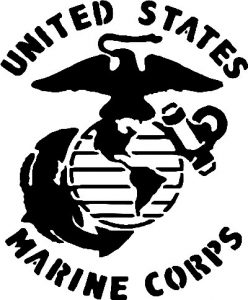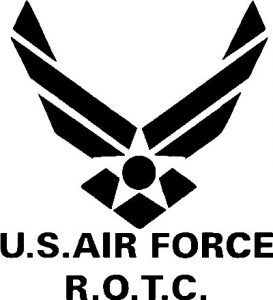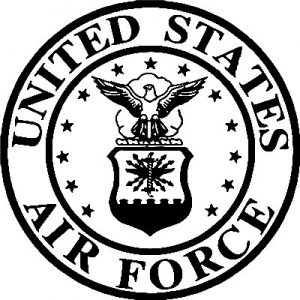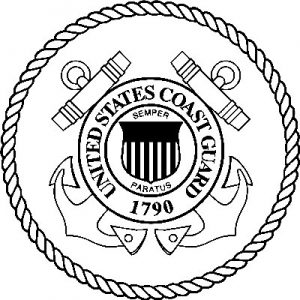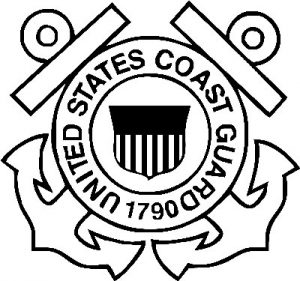 Whether a family member has served in the Armed Forces or a friend you know has made the sacrifice with their life while protecting their country, we offer the full range of emblems from all 5 departments of the US military.
If you want to honor a relative or loved one that has served in Vietnam or WWII, we offer various logos for your army's memorials.
What kind of inscriptions or phrases can I include on my memorial bricks and tiles?
Choosing what inscription or phrase to include on your memorial brick, especially when it comes to honoring your loved one, can be challenging for a lot of people.
Memorial inscriptions can be diverse, from traditional phrases to more unique, heartfelt messages that are specific to the person being honored. However, choosing a simple message is often the best. We want to give you a list of typical inscriptions as an inspiration for you to choose from.
Please feel free to change these to fit your needs, and let us know if you need any further assistance.
In loving memory of a father who gave everything to support and love his family.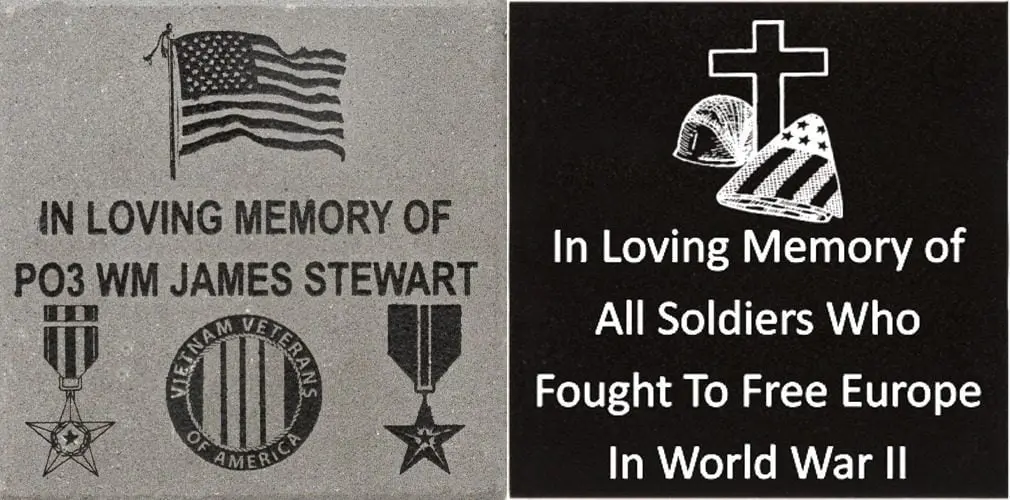 In honor of the men and women that saved our community.

Always in our hearts, you will never be forgotten.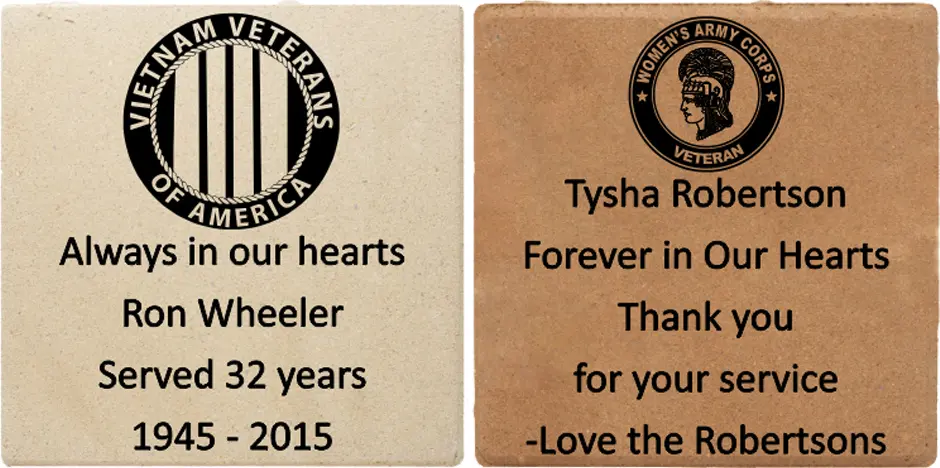 In ever loving memory of a great husband, wonderful father, and protector of the peace.
Forever in our minds, our friend, brother, and guardian.
Remembered always …
Sacred to the memory of …
Precious memories of …
And many-many others.
What warranty do I get on my memorial bricks?
In our promise of delivering the best care and attention to each customer, we give a lifetime warranty with each memorial brick and tile.
We will replace your memorial bricks at our expense and give assurance of the superb quality of the materials provided that the bricks were installed, maintained, and sealed properly according to our instructions. We also guarantee that the lettering will be readable for the entire lifetime of the brick, and we guarantee against any chipping, fading, or peeling of the inside letters.
For further information on our lifetime warranty, please visit our warranty page
How do I use memorial bricks in fundraising?
Using memorial bricks in fundraising campaigns is a simple way to raise funds for a Veteran's memorial park or garden with a little-to-no upfront cost. Polar Engraving has worked for a variety of different clients in creating custom engraved bricks for fundraising purposes ranging from schools or other non-profit to Army's Veterans' memorials.
Polar Engraving makes it easy to set up your personalized donor website and help determine what your fundraising goals are. Through your donor website, donors can place their donations online and you can see all the orders through the online management system.
We have set it up this way so that you can oversee the whole process, your buyers also receive a confirmation of their orders, and we have all the information required to make your memorial bricks campaign a success! Raising money for a memorial service, event, park or garden has never been easier.
How to Setup a Successful Brick Memorial Campaign?
We offer many valuable added services to help organizations have a successful memorial campaign or a donor recognition project. Our free marketing tools, such as donor website, brochure order form, brick locator, and online order management system were created to help organizations successfully manage their memorial campaign.
You can find all of our marketing tools and tips at our Learning Center. Our friendly and knowledgeable fundraising specialists are always available to answer your questions or assist you, just give us a call at 1-800-546-7993.
Below are a few Memorial and Veterans Organizations we have helped with successful fundraising projects. You can find customer brick memorial projects near you.
2nd Battalion 3rd Marines Division-Kaneohe Bay, HI
Alabama Veterans Memorial Foundation-Birmingham, AL
American Legion Post #95-Brockway, PA
American Legion Post #150-Sterling, VA
Custer Veterans Memorial-Custer, SD
Oneida Castle Veteran Memorial-Oneida Castle, NY
VFW Post 6187-Fort Fairfield, ME
NAS Lemoore Aviator Memorial Association-Lemoore, CA
Wyoming Army National Guard-Afton, WY